At the age of 13, Nunnaree Luangmoi dropped out of school. She was sent to work as a nanny and housekeeper, paid little, with scarce time off to visit her family. Over the course of her life, Nunnaree has escaped rape several times, endured death threats, been beaten and forced to live under police protection.
This is the story of the founder of the Center for Girls. The Center for Girls is UN Women's partner, working to prevent all forms of violence against women and children, including human trafficking in Thailand.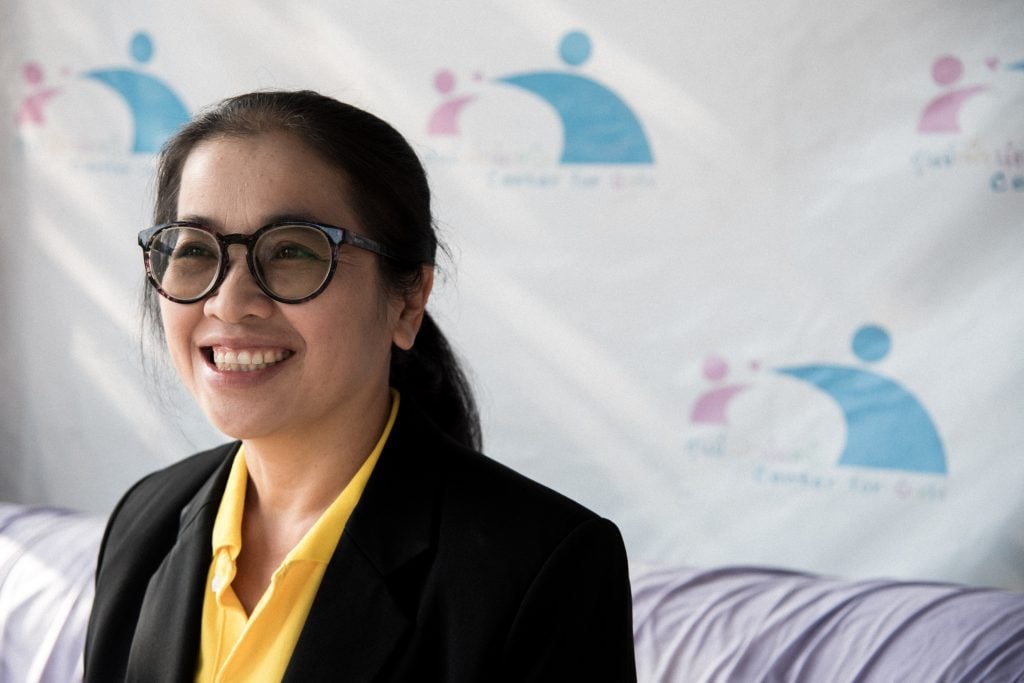 I was humbled to meet Nunnaree and her team, learn more about their story, and the tireless advocacy and prevention programming she pioneers along the borders of northern Thailand, where trafficking and violence are all too common. I met her while on the Ride for Rights Team 2019. The Ride for Rights Team 2019 is a committed group of UN Women Australia supporters who traversed northern Thailand from Chiang Mai to Chiang Khong by bicycle this November. Our Ride for Rights raised much needed funds for Center for Girls projects working to protect and empower women and girls.
For five days, we rode through tiny villages and bustling towns, over steep hills (sometimes so very steep that we summited them, on foot, with bikes by our side).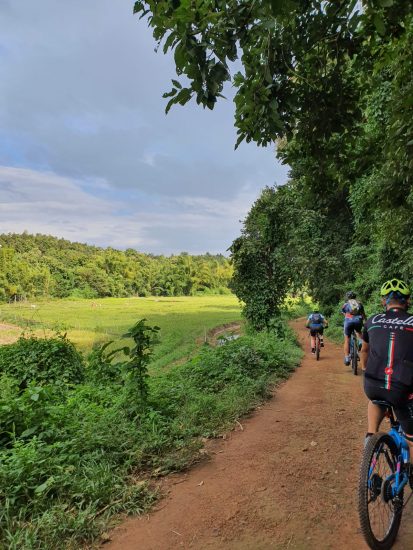 We travelled along narrow paths flanked by rice paddies, pineapple plantations and witnessed everyday life. With the help of our terrific guides, Dom and George, we navigated our way around countless obstacles, from chickens to freshly paved cement, got drenched in an afternoon rainstorm, and lost count of colourful, sparkling temples. And we never once took for granted the fact that we were just visitors on this journey; that back home, clean water flows from our taps, schools are reasonably accessible, and child marriage is not commonly practiced, limiting girls' potential, leading to girls becoming mothers rather than living out their childhoods.
After the cycle, we spent a day visiting with UN Women's and the Center for Girls' teams. First, we meet Nunnaree: she founded Center for Girls twenty-two years ago because she wanted to take action against widespread sexual abuse and exploitation in her community. Today, Center for Girls' mission is to work in Chiang Rai Province to empower women and children, reduce violence against women and girls, and educate the community about trafficking – to identify early warning signs, prevent and report the practice. She has a strong team of staff and volunteers, including 240 women leaders who monitor violence and trafficking, provide/refer support to survivors and report the practices in 102 villages.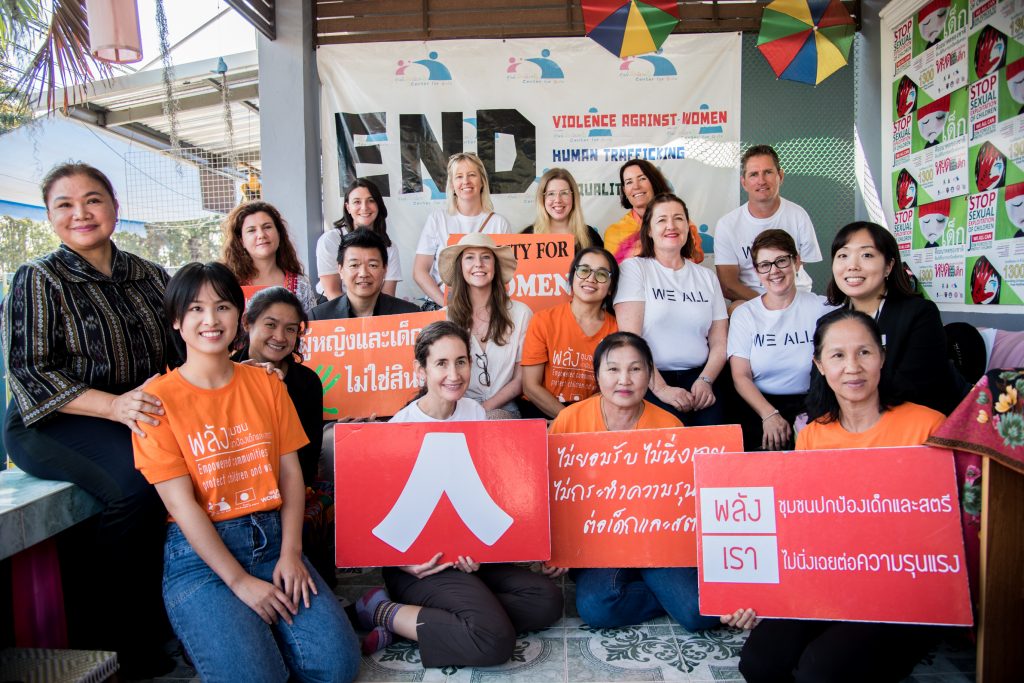 We had the opportunity to meet with several of the women leaders who have been trained – across 102 villages, 7 subdistricts – to educate their communities about violence against women and children – including trafficking — what it is, how to identify and prevent it and how to intervene in cases of trafficking or other forms of violence against women and girls.
After a visit with Nunnaree and the Center for Girls team, we headed to Song Pi Nong Village, a Lahu village, with a vibrant and outspoken head and assistant head of village, to learn more about their community. They rely in part on income from selling corn and the rice they don't consume, and have been struck by drought in recent times which has had an adverse impact on their crops.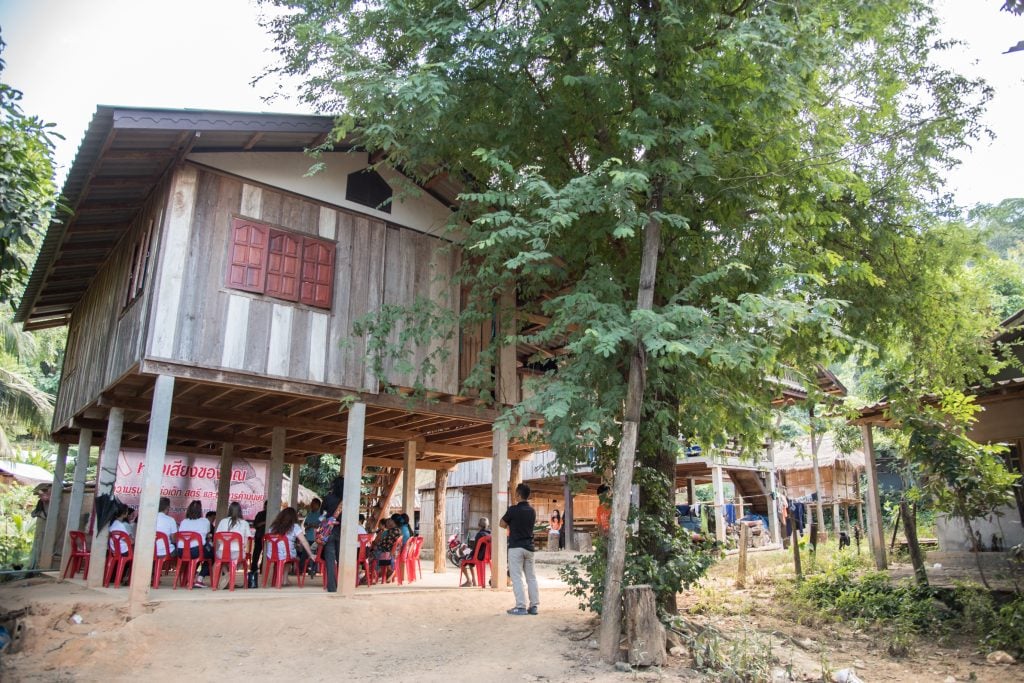 We then travelled to Kew Doi Luang, a village where Hmong and Lahu people live side by side. Women leaders were outspoken about their desire for children to continue their education, but also spoke about the challenges marriages at age 13 or 14 pose to the future prospects for girls. Both villages mentioned the practice of child marriage. While women leaders were outspoken in condemning the practice, the changes are coming, albeit slowly.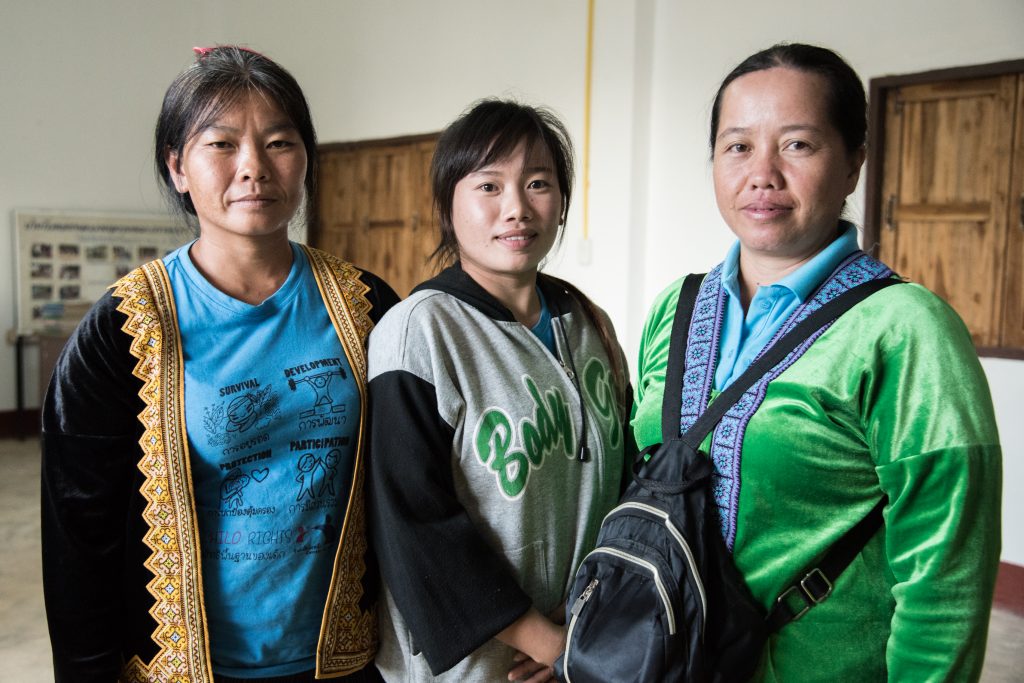 In Kew Doi Luang, we had the privilege of visiting a shaman at his home, who shared more about his work healing people who may be sick, or have other troubles.
In both villages, Center for Girls promotes handicrafts as a means for women to generate income. Colourful purses, decorative woven cloth and other items were available for sale – including via an online shop.
Center for Girls has a few rallying cries, that drive their work:
Empowered communities protect children and women.
…and…
Empowered women can change the world.
The more awareness raising, community education and mobilisation work that Center for Girls does, the more communities are witnessing a decrease – albeit slowly, but equally, steadily – of child brides. The more opportunities girls have to pursue an education and a career, the less vulnerable they are to poverty and to trafficking.
We gained a small window into the work of Center for Girls made possible through support from UN Women. We grew stronger in our determination to continue to raise awareness and funds about the pervasive issue of violence against women and children, taking different forms, from child marriage to trafficking, sexual abuse and exploitation. The Ride for Rights 2019 would like to thank the team at the Center for Girls, UN Women, and all the community leaders from Song Pi Nong and Kew Doi Luang who took time out to educate us about their communities and their vision for the future. We hope that the support we have generated from the Ride for Rights will play a small part in enabling brighter futures for women and girls in northern Thailand, and sow seeds of hope.
I would like to share a heartfelt thank you to all the riders who took significant time away from home to participate, train, raise much needed funds and be a part of Ride for Rights Thailand 2019. On behalf of UN Women Australia, I'd also like to thank our partners, QUT Business School, who generously sponsored two riders to join us on the 2019 team, and AIG, for providing complimentary travel insurance for all riders, and for also sponsoring a rider on the 2019 Team.