Between 75-90% of Pacific market vendors are women. Their earnings help support themselves and their families, and their businesses play a vital role in food security. UN Women delivers training and collaborates with local governments to ensure women market vendors have a seat around decision-making tables. Markets for Change nurtures women leaders, contributing to better working conditions, increased financial security, making for safer, more inclusive marketplaces.
This International Women's Day, meet four of the inspiring women market vendors leading change in their communities across the Pacific.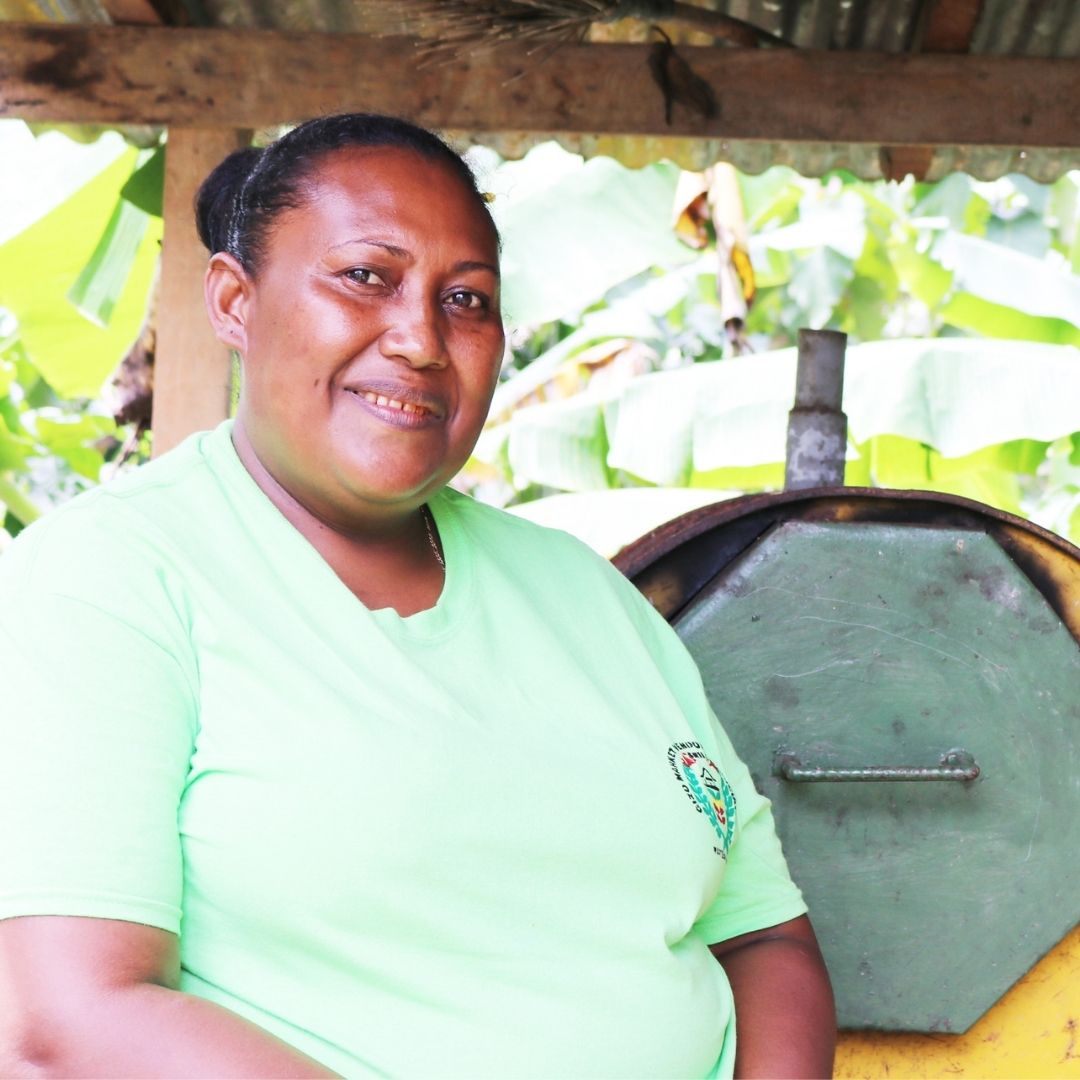 Lauretta Nasala, Solomon Islands
Lauretta Nasala resigned from a full-time position in Honiara in 2007 to become a market vendor: she has never looked back and speaks of how she has become a better businesswoman as a result of her participation in the UN Women Markets for Change Program. She moved to Gizo in 2014 to resettle her family land and resumed her business at the (old) Gizo Market. In 2018, she saw the potential to improve her business and contribute to the Gizo Market Vendors Association, and jumped right in to drive change. Lauretta played a key role in the consultative processes that led to the opening of the new Gizo Market. Lauretta has sold a diverse range of goods at the market, including pastries she bakes in a homemade wood-fired oven.
"But when I first came, I came as market vendor [and saw it as my means for] survival. I do not do budgets. I was just happy with the way things were and the monies I earned on a day to day basis. I am at peace knowing that tomorrow I will again earn money. Until I came to know the [Market Vendors] Association, and they trained me in management, budgeting and other trainings to do with gender equality. That really helped me…I started to build myself to know different things, I just learn a lot from the trainings that the project carried out." Lauretta has sharpened her business, management and budgeting skills, and contributed to the new Gizo Market. Now, she is helping lead the way as a successful businesswoman and leader at the market. Lauretta Nasala, Gizo Market (2019).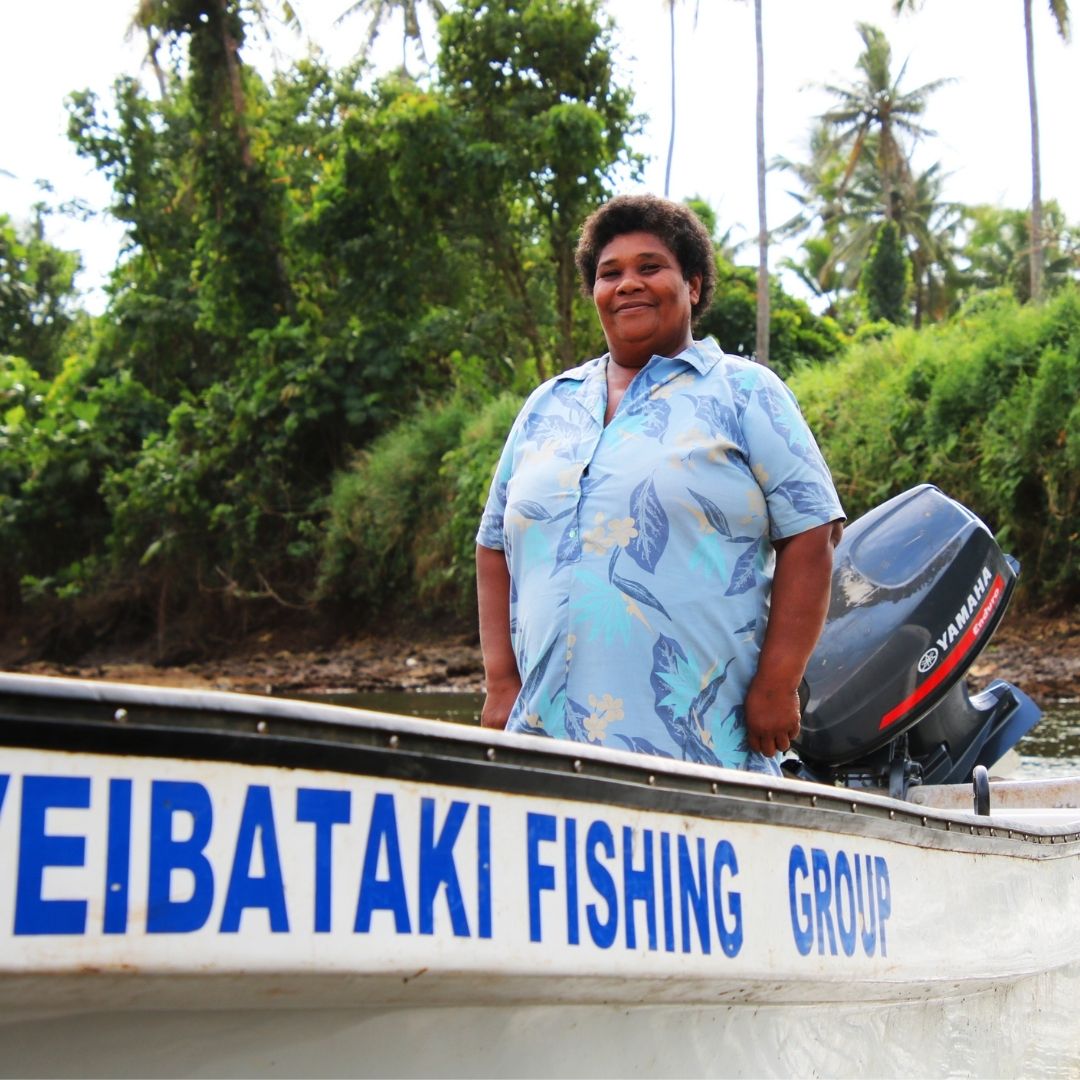 Selai Siri Veibataki, Fiji
Selai Siri Veibataki started selling produce in a space that was considered the Levuka Market in 1986. Vendors used flattened cartons to place their produce on, and just hoped it wouldn't rain or the sun wouldn't be too hot. Vendors now have some respite from the elements with tents provided by the UN Women Markets for Change Program. Selai speaks passionately about how much the program training sessions, including financial literacy, boosted her capacity to advance her business interests. Throughout the 30+ years that Selai has been a market vendor, she has diversified from farm produce to a village store and now owns a boat which takes her produce to Nausori or Suva. She is a mother of three sons who have all followed her footsteps and have carved themselves places in sustainably using the land and the sea for their business interests. 
"This organisation for women from the UN, it has taught me so much about saving money. I've come to realise that…how good a family fairs is dependent on us women, if we make good decisions, the family will do well. This is why I like this program very much, every time they come to carry out some training, I want to be part of it because it widens my horizon…For a long time, we did not have anything to shield us from the sun and rain but now we have tents, we have tables and chairs – that's what she's brought to us. Secondly, it has taught us to save. The workshops teach us a lot, how to save our money for other purposes when we get bad weather or a hurricane, they even teach us how to respond to that. I've also come to learn that us women, we are banks of the family. I know how far-reaching the impact of what they teach us is…If we did not have these opportunities to learn basic business principles, all our selling at the market would've come to nought however what we've picked up has blown our minds and increased our expectations too – our plantations are expanding, we are diversifying to voivoi, body oils, salusalu, whatever's around us. Things that we did not really care about before, we are now looking after them through lessons from this organisation, it has truly widened our worldviews and strengthened our (Ovalau Moturiki Market Vendors) association." Selai Siri Veibataki, Ovalau Moturiki Market Vendors Association, Fiji.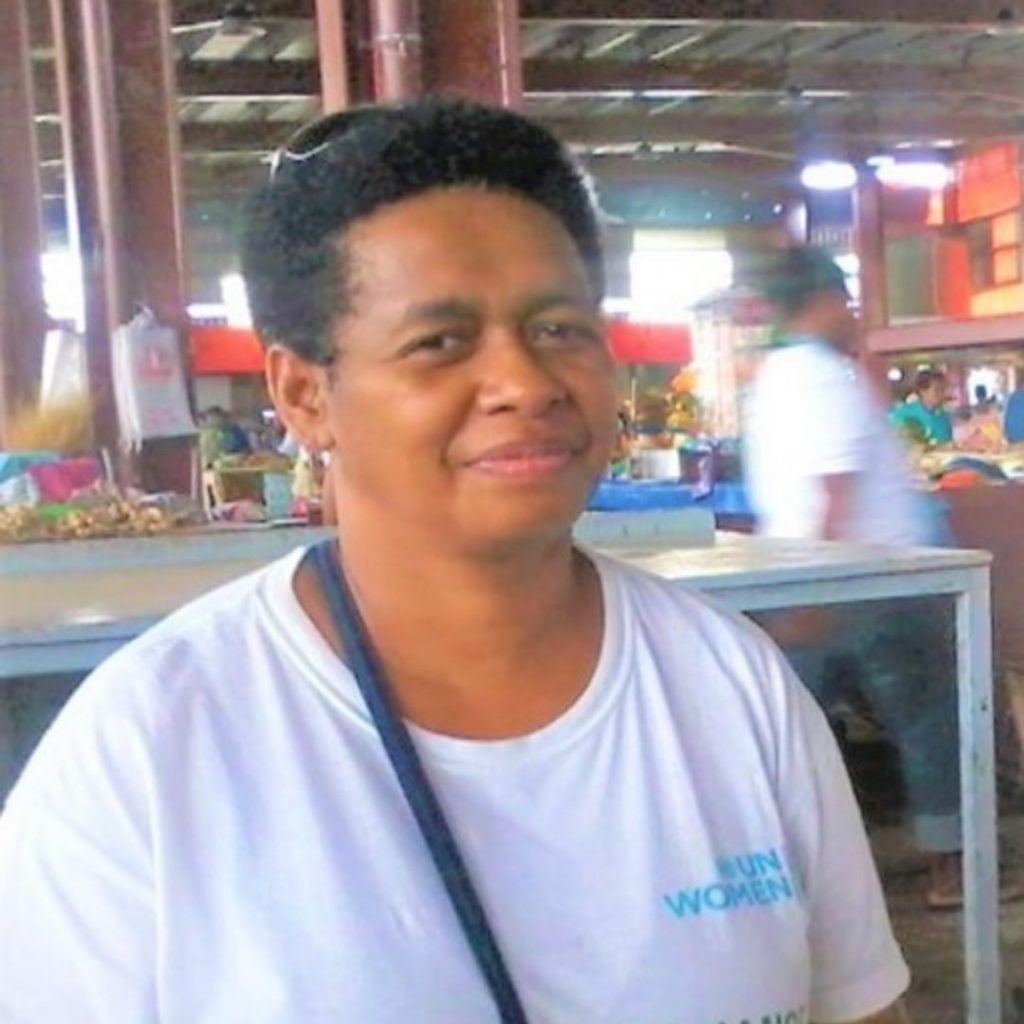 Filomea O'Neil, Fiji
Filomea O'Neil, the president of the Lautoka Market Vendors Association, has been selling at the Lautoka Market for 10 years.   Leadership training provided by UN Women's Markets for Change Program has fundamentally changed her. "The leadership training changed my approach in terms of managing expectations from both the MVA [Market Vendors Association] members and the market management staff," Mrs. O'Neil said.
Throughout her term as president, the Lautoka Market Vendors Association (MVA) played a vital role in assisting the market management and Lautoka City Council health officers to  implement effective COVID 19 restrictions in the Lautoka Market. Restrictions included social distancing and practicing good hygiene by informing and directing all its members to follow instructions given by the market master and the health officers. The MVA was also recognised by Punja's Group of Companies in Lautoka who donated four cartons of hand sanitiser to the Lautoka MVA for market vendors and the office of market management.
When the Fijian Government declared a 14-day lockdown period for Lautoka City, the association negotiated for the free use of the accommodation centre by its 12 rural women market vendors. Ms O'Neil further strengthened linkages between its rural women farmer vendors and the permanent vendors in the Lautoka and Namaka markets by forging partnerships to facilitate reducing wholesale prices, allowing them to sell market produce at a cheaper price. This move benefitted thousands of people in the Lautoka-Nadi corridor who had lost their jobs or were on reduced hours in the local hotels because of the COVID 19 pandemic.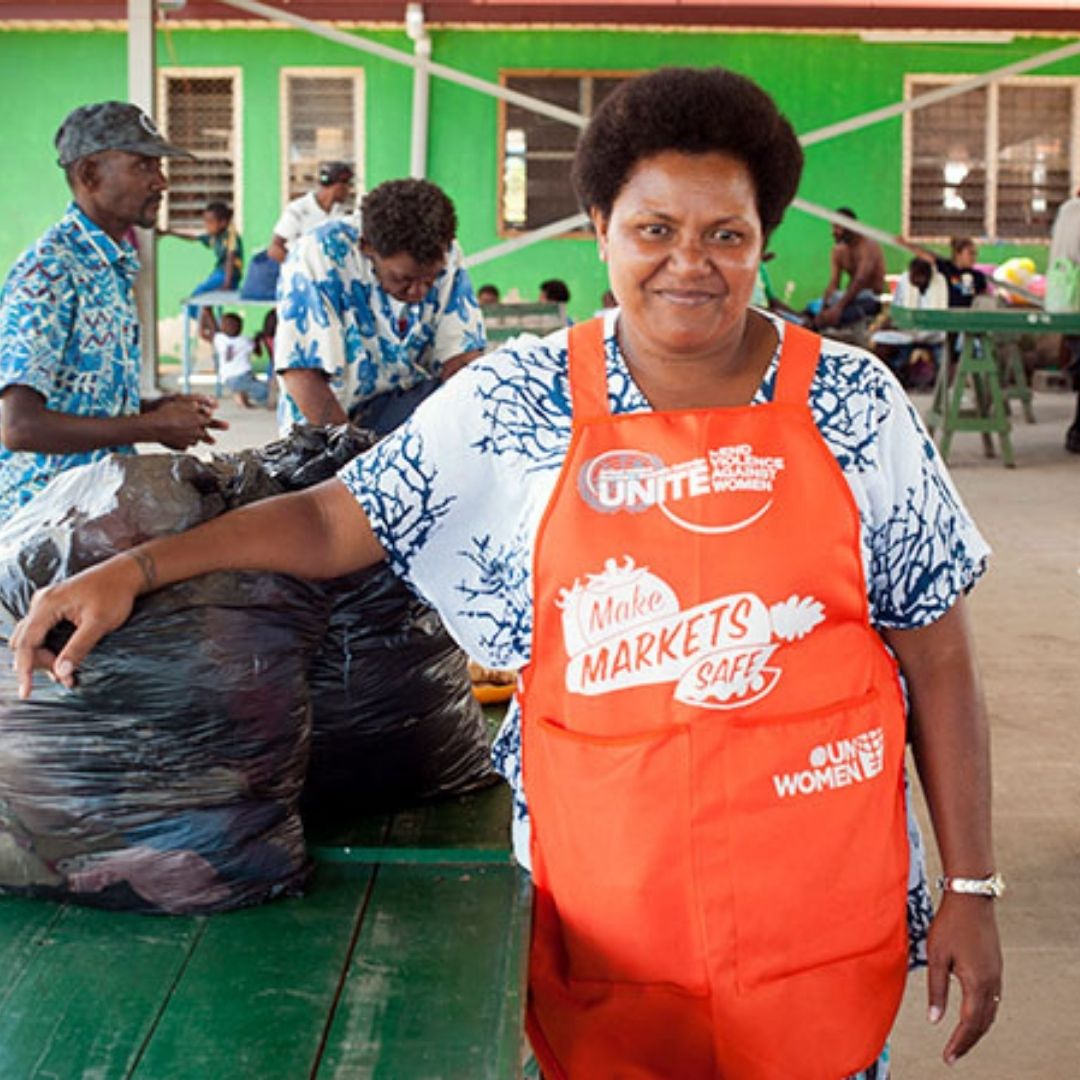 Varanisese Maisamoa, Fiji
In February 2016, Tropical Cyclone Winston devastated Fiji, showing the heightened vulnerability of people living in the Pacific Islands, where climate change has led to a series of increasingly severe cyclones in recent years. Farms were decimated and markets, like the Rakiraki Market and accommodation centre for rural women, were destroyed, leaving many market vendors (three quarters of whom are women) without an income.
Varanisese Maisamoa was one of these women.
Today, with the help of UN Women's Markets for Change project, Varanisese has not only got back on her feet, she has also become a strong leader in her community. This is her story.
This International Women's Day, all donations made to UN Women Australia will support women as leaders, entrepreneurs and agents of change in Fiji, Vanuatu and Solomon Islands through the Markets for Change project.