As many people find themselves indoors due to the COVID-19 outbreak, fathers in Turkey are spending more time with their children and breaking gender norms by taking on more childcare and domestic responsibilities.
---
The Father Support Program (FSP), implemented by the civil society organisation Mother Child Education Foundation (AÇEV), aims to promote favourable attitudes and behaviours towards gender equality and ending violence against women with support from UN Women's Implementing Norms, Changing Minds program in the Western Balkans and Turkey.
More than 800 fathers who took part in the program in Turkey are now sharing more care work at home and challenging other fathers to be involved in household chores and increase the quality of time spent with their children.
"Now, since I don't go to work because of coronavirus, I have been together with my wife and children at home for the past three weeks. We play games. We planted flowers and now we are observing their growth day by day," says Yuksel Bayer, a program participant from Manisa, western Turkey. "We are also sharing housework with my wife. For example, she sweeps, I wipe. We are doing our best to stay healthy during these days."
The Father Support Program advocates for involved fatherhood and gender equality and is designed specifically for fathers of children between the ages of 3-11.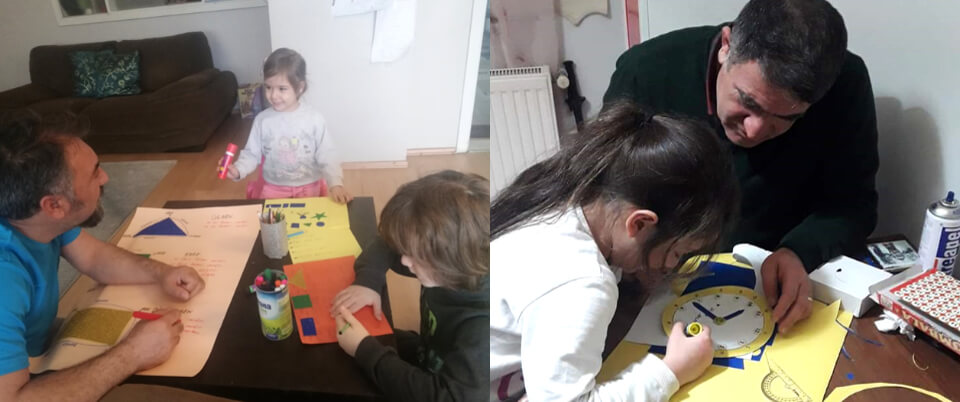 In 2019, more than 867 fathers across eight provinces of Turkey completes the 13-week program and some fathers continue to attend online sessions conducted by trainers in 2020 as well.  
"After the COVID-19 outbreak, the FSP trainers continued to offer parenting support to the participants via different online channels," explains Ahmet Çetin, Program and Field Coordinator of AÇEV.  "They recommended children's activities and gave brief summaries of the program sessions and suggestions on how fathers can develop their parenting skills in times of the COVID-19 lockdown."
As a result of the online intervention, the WhatsApp groups previously created under the project have become more active, and interaction among fathers has increased. Most fathers are taking photos and recording videos of themselves doing creative activities with their children, such as making puzzles, playing games, or doing care work at homes, such as cleaning or cooking.

"Playing together with the kids was very enjoyable. I enjoyed the game as much as they did. They have an amazing imagination," said Ali Ekber Balku, another participant of the program from Bursa province.
Research shows that, across the nation, women carry a majority of the household duties, even with full-time jobs.
"Before COVID-19 became a universal pandemic, women were doing five times as much unpaid care and domestic work as men. In the context of the pandemic, the increased demand for care work is deepening already existing gender inequalities," says Yolanda Iriarte, Manager of UN Women's regional program, Implementing Norms, Changing Minds. "This is why, through the Father Support Program, we want to inspire men to do their equal share of household duties and childcare responsibilities."
AÇEV is also working on producing comprehensive content on physical strength, psycho-social resilience and household relationships, including content on the share of domestic responsibilities and combating domestic violence during outbreaks.