For over 30 years, UN Women Australia has hosted Australia's pre-eminent International Women's Day (IWD) fundraising events, drawing together people from diverse backgrounds to celebrate global achievements, agitate for change and raise life-changing funds to support the world's women and girls.
In 2022 we'll be celebrating under the International Women's Day theme, Changing Climates: Equality today for a sustainable tomorrow – a theme that recognises the contribution of women and girls around the world, who are working to change the climate of gender equality and build a sustainable future.
Attending our official IWD events is a fantastic way to celebrate women's achievements and show your friends, family, colleagues and community that you support the world's largest movement for gender equality.
Join us virtually on Friday 4 March 2022 to celebrate the women leading change every day and highlight the actions we can all take to create a brighter, more equal future.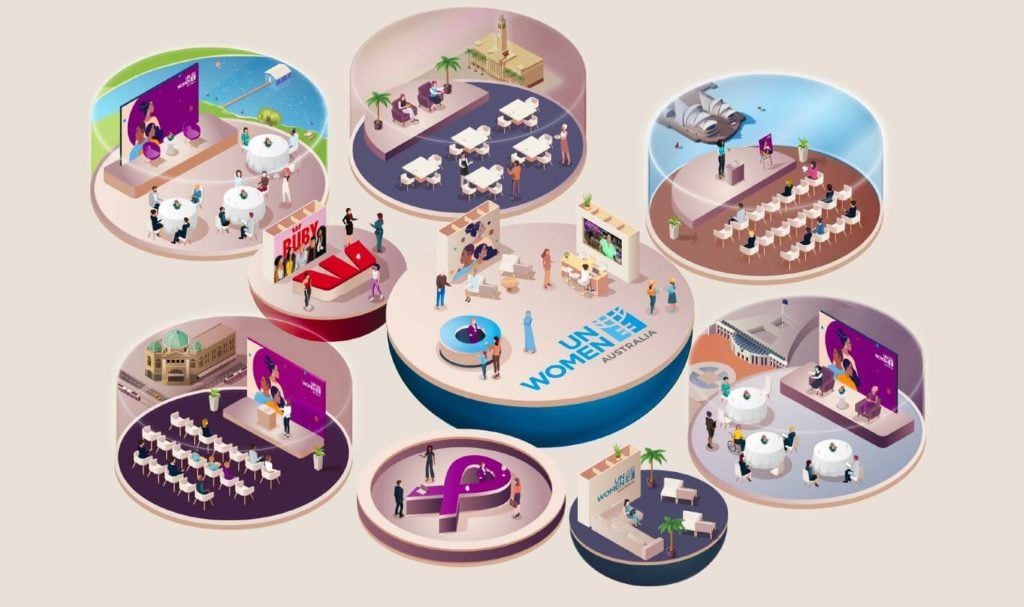 Guests joining virtually will be able to explore all the UN Women Australia events around the country via our interactive virtual hub – far more than just a streaming platform or zoom call. You will be able to access our full IWD 2022 program of speakers, including the headline speakers in the main auditorium and breakout rooms streaming the local live events. You will also be able to immerse yourself in UN Women stories and projects, and make a life-changing donation. This interactive experience and our speaker content will be available to view until midnight on Sunday 13 March.
Date: Friday, 4 March 2022 
Perth: 8:30 am – 12:00 pm (AWST)   
Brisbane: 10:30 am – 2:00 pm (AEST)
Sydney, Canberra, Melbourne: 11:30 am – 3:00 pm (AEDT)
Venue: Online – links will be supplied 48 hours before the event 
For any questions regarding tickets and access to our events please contact [email protected]
Content can be viewed live or for a limited period post event (pending speaker permissions).
If you are interested in live streaming our events to a school, community group or at a corporate event please contact [email protected] to explore the options available to you. Thanks to our pay-it-forward sponsor, Salesforce, we are offering free live streaming to secondary schools.  
Useful links and resources
 For any questions regarding tickets and access to our events please contact [email protected]
With thanks to our IWD Partners and Sponsors