Economic equality between women and men is essential if we ever achieve gender equality.
It is estimated that the cost of the gender pay gap to the Australian economy is $51.8bn a year*. Women in Australia have lower workforce participation rates and work fewer hours than men as they continue to face systemic barriers to working the hours and jobs they want. Unfortunately, women continue to shoulder most unpaid work and care in Australia and are overrepresented in Australia's low-paid essential sectors.
This panel discussion will explore the issues facing women in Australia's economy, why gender equality is crucial to economic growth and an evaluation of the steps to bring about real change.
Meet the panel:
Simone Clarke, CEO, UN Women Australia
Chiou See Anderson, President, National Council of Women of Australia
Professor Robyn Mayes, Director, QUT Centre for Decent Work and Industry
Professor Vicky Browning, Program Director, QUT Pathway to Politics Program for Women (Moderator)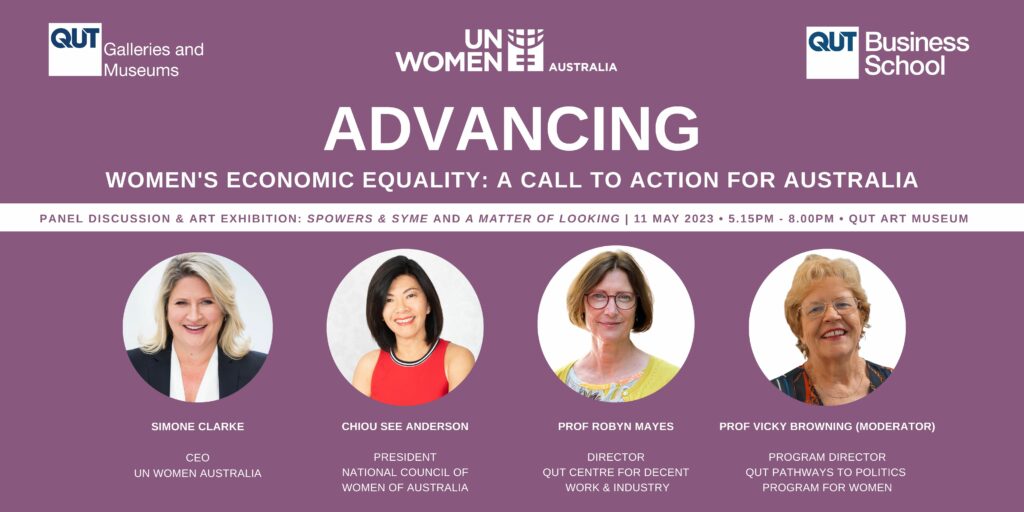 The discussion will be followed by light refreshments and a special exhibition viewing in QUT's Art Museum:
Spowers & Syme is part of the overarching exhibition, Know My Name, an initiative of the National Gallery of Australia. The exhibition celebrates the work of all women artists to enhance understanding of their contribution to Australia's cultural life.
A Matter of Looking: 20th-century works from the QUT Art Collection introduce audiences to rarely-seen paintings, prints and drawings by female artists across the broad spectrum of the 20th century.
For more information on QUT's Art Museum and exhibitions, click here
* She's Price(d)less (kpmg.com) KPMG, Diversity Council of Australia, WGEA, released July 2022
Event Details
When: Thursday, 11 May 2023
Time: 5:15 pm – 8:00 pm AEST
Location: QUT Art Museum, U Block, QUT Gardens Point Campus
2 George St, Brisbane City QLD 4000
Cost: FREE