In Indonesia, 47 per cent of women above 15 years old work in Micro Small Medium Enterprises, such as retail, restaurants, hospitality and manufacturing. These sectors have been hard-hit by the COVID-19 pandemic. While Indonesia does not impose a nationwide lockdown, the Government has been enacting large-scale social restrictions in areas with high infection rates. As of 20 July, Indonesia has recorded 88,214 COVID-19 cases, with more than 1500 new cases each day.
Mardiyah, a mother of three from Panggulan village, Indonesia, makes her living from selling homemade empek-empek (Indonesian fish cake). She distributes these to the local school canteen, boarding school, and food stall. When the school closed because of COVID-19, there was a drastic drop in sales, leading to a significant decrease in household income.
"As a single parent, I am the sole income earner in the family. COVID-19 has affected my life so badly and I'm afraid I won't be able to provide for my children," she says.
While the COVID-19 pandemic has impacted people's livelihood everywhere, the crisis has posed new challenges for the distribution of humanitarian aid. Simply put, the crisis has exacerbated living conditions for people who were in vulnerable positions even before the outbreak.
"With social distancing measures in place, many women suffered total losses in their income, while others were left without jobs. As a result, women struggle to meet their basic needs, including food," says UN Women Indonesia Representative, Jamshed Kazi.
Residents of the Peace Villages in Indonesia – a women-led initiative conceived by UN Women and the Indonesian NGO, Wahid Foundation designed to promote peaceful and resilient communities – have lost their jobs and seen a rise in food insecurity as a result of the pandemic.
To respond to these new challenges, UN Women is providing essential support to women in the Peace Villages through the Guyub project. Guyub is an Indonesian word meaning, "getting along" or "in togetherness" – a philosophy of living socially, where everyone in the community is connected and supported.
"After consultations conducted with the women's collectives and considering the socio-economic realities of the villages, we decided to distribute food packages and support in business recovery," says Kazi.
UN Women has now distributed over 500 food and hygiene packages to families in ten Peace Villages across Java.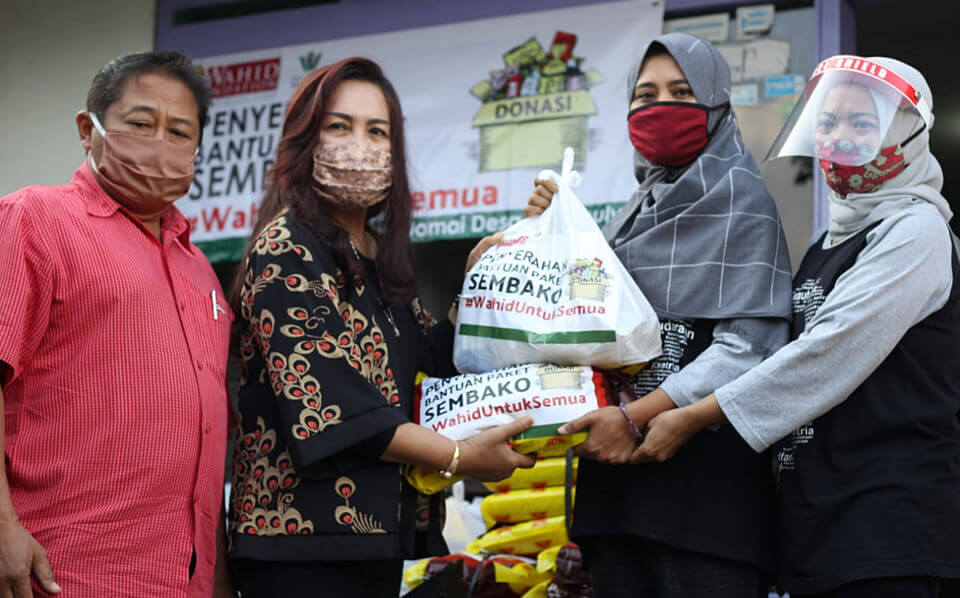 In order to ensure safe delivery of these lifesaving packages during restrictions on travel and movement, a women-led task force was formed to lead the coordination, distribution and implementation of health protocols in each of the Peace Villages.
"Large-scale social restrictions that were imposed in our city created a challenge for us to speed up the process to buy, prepare and distribute food packages and hygiene kits. Although our movement was limited, we managed to distribute the packages to the impacted residents," says Siti Yulaikha, a member of the task force in Sidomulyo. "The residents are thankful for the food packages as many of shops and markets are closed."
Several of the Peace Villages also formed women-led task forces to reduce the impacts of COVID-19 and protect their community. Task force members took roles ranging from educating the community on safe hygiene practices, disinfecting public spaces, and producing and distributing masks to the community.
They also used training received from UN Women to create an online marketplace to compensate for sales lost due to closed markets.
"To ensure that money keeps flowing in, [women] recalled the entrepreneurship training they received and started to sell their products via WhatsApp. Food stall owners utilised WhatsApp to arrange takeaway food orders and home delivery. These efforts have helped them with vital, sustained income during the pandemic," said Yulaikha.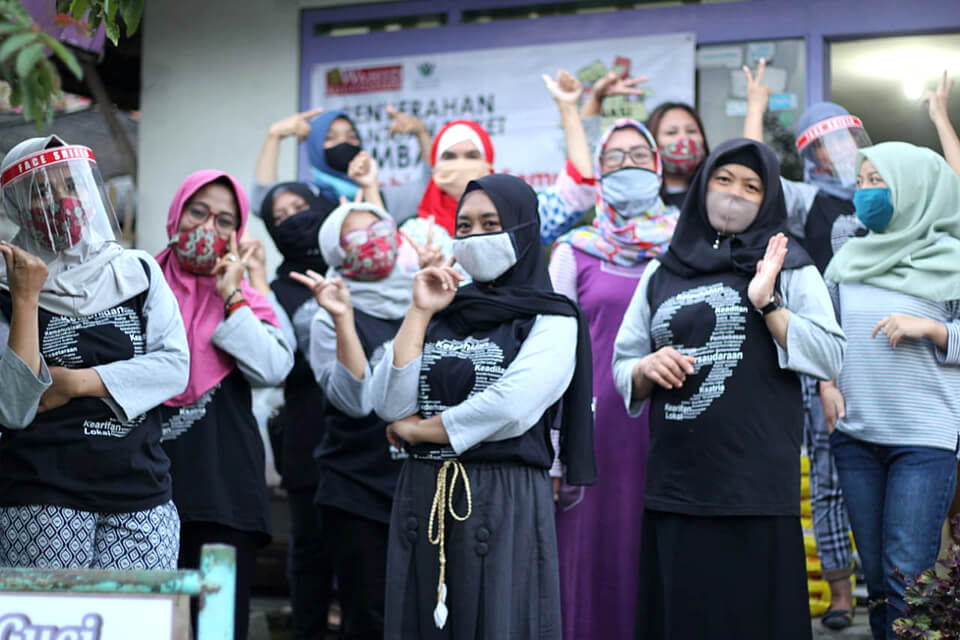 In the face of the many challenges brought about by COVID-19 pandemic, the many ways in which the women of the peace villages have banded together to support their neighbours through the unforeseen changes brings hope to all.