In a small village in Sri Lanka's Northern Province, Juvachandrakumar Lucia, 42, sits patiently, intertwining two palm leaves to make a pot coaster.
Using her skills in palm-weaving, Lucia, sells a variety of custom-made products to provide an additional income to her family. "For us, even a small income goes a long way", she says.
Lucia has been specializing in palm-weaving since 2014. However, from the beginning of her craft-making career, she has had to face persistent challenges to prove her capabilities in what she calls a 'man's world."
"To source raw materials, I have to make long trips to Jaffna, which takes about three to four hours of one-way travel" from her home in the village of Thirunavat Kulam, she says. "Travelling alone as a woman is also not safe. I don't want my family to worry, so I keep these trips to a minimum and sometimes my husband accompanies me in his auto rickshaw."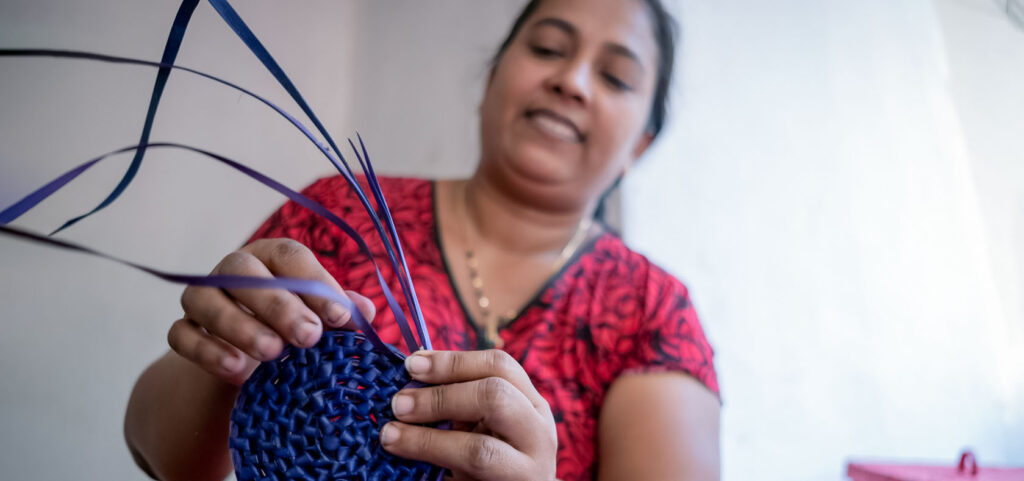 Navigating these challenges, Lucia believes that her work and success speak for themselves. From September to December 2021, Lucia says that the four-phased training and support received by the Palm-weaving Board has helped in honing her skills in business planning, product development, financial literacy and business management and marketing. The Board has been identified by UN Women and local civil society organization Chrysalis as part of an economic empowerment programme in the country. Lucia was part of the first cohort to receive the training from UN Women, which has helped expand her business opportunities.
As part of the programme, she also received a marquee to showcase and sell her products at the weekly market held at the community centre in Vavuniya, which has helped increase her sales. She notes that "during the peak of the pandemic, there was a drop in the number of customers, but now business seems to be picking up considerably."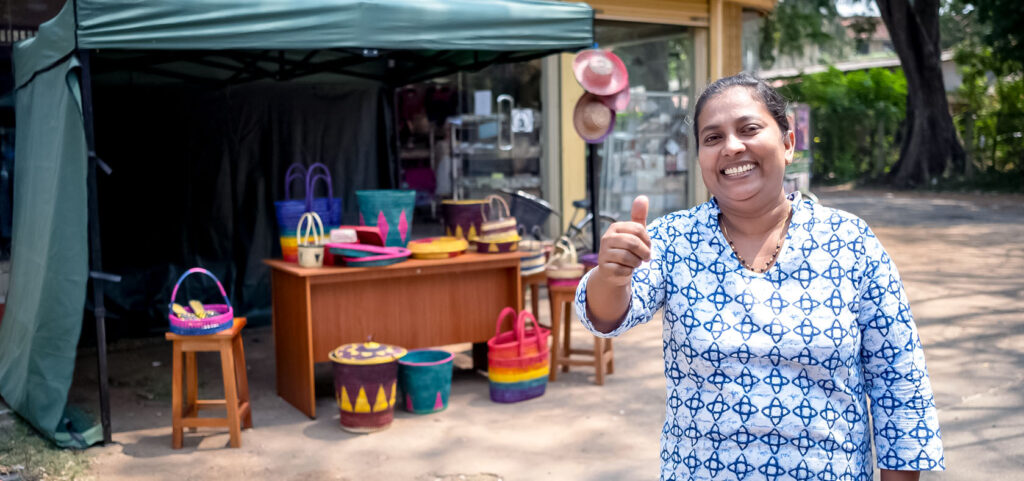 "People say the colours, designs and patterns of my products are unique. International orders for exports to India and Pakistan have also increased now," she notes with a hint of well-deserved pride.
In addition to boosting her business, UN Women's programme has also opened up new avenues for Lucia. She now trains other women who are interested in the craft and pushes them to step out of their comfort zone, so they too can financially support themselves and their families.
As a woman who proactively utilizes her talents, Lucia feels she is regarded as intimidating by some, "because people in my village are not used to seeing women take leadership," she says. "There is discrimination against women, of course. But we must take initiative, and challenge these conservative narratives", says Lucia, confidently.
Meanwhile in Thelulla, Moneragala in the Uva Province of Sri Lanka, 55-year old W.A. Kamalawathi stands by the side of the road with the mobile-vending cart provided through UN Women's programme.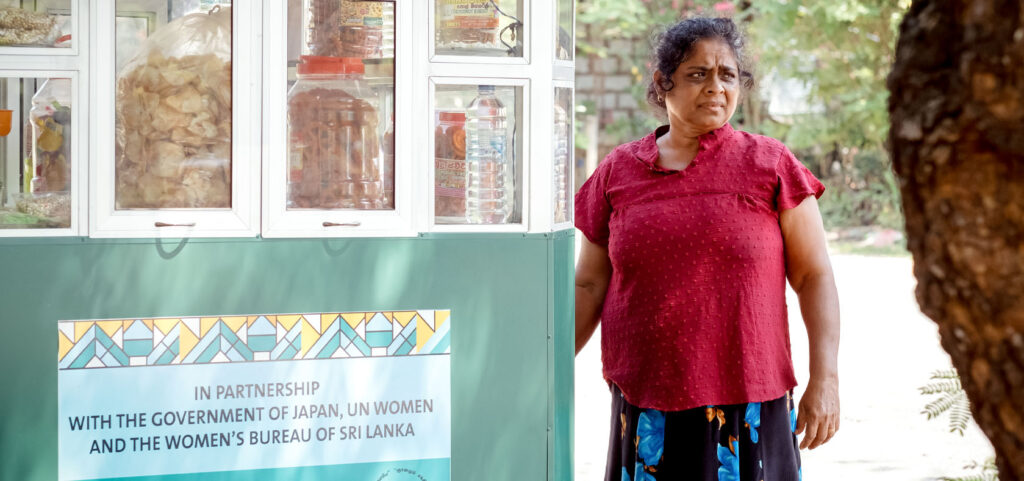 Before the pandemic, Kamalawathi used to be a seed farmer. However, given the changing climate and prolonged dry weather, coupled with the effects of the pandemic, she notes how her financial prosperity from the trade has reduced.  
"Times are hard now. The pandemic has drastically reduced our income. It has also made it difficult for us to access food, water and medicine due to shortages of essential supplies in the country. We must work to survive," she says matter-of-factly.
Despite these hardships, Kamalawathi believes that the sales cart provided by UN Women arrived at the right time as she took initiative to sell a variety of everyday Sri Lankan snacks to passers-by on the road. This has also allowed her to provide daily necessities for her family.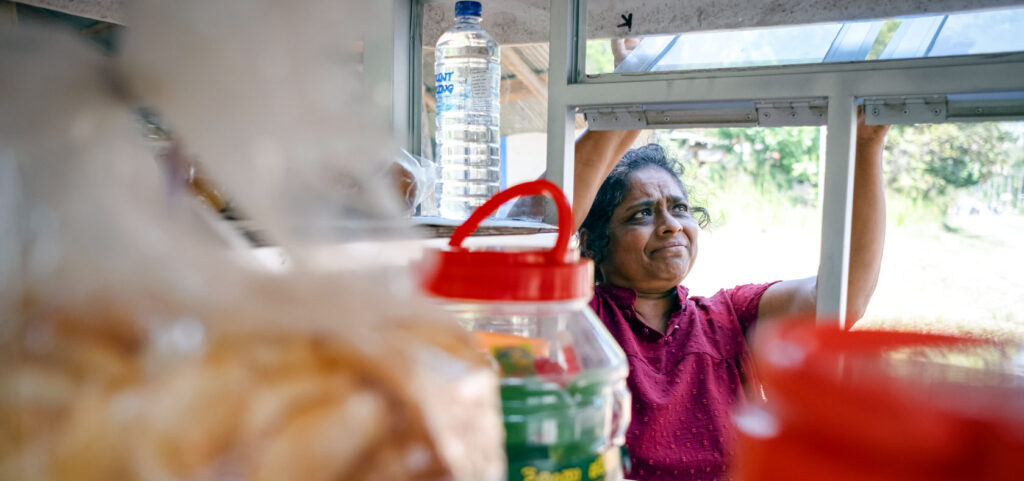 "I just want to give financial security to my family, and that is what everyone should aim to do. Work hard, work honestly and try to make do with your resources," she says, optimistically.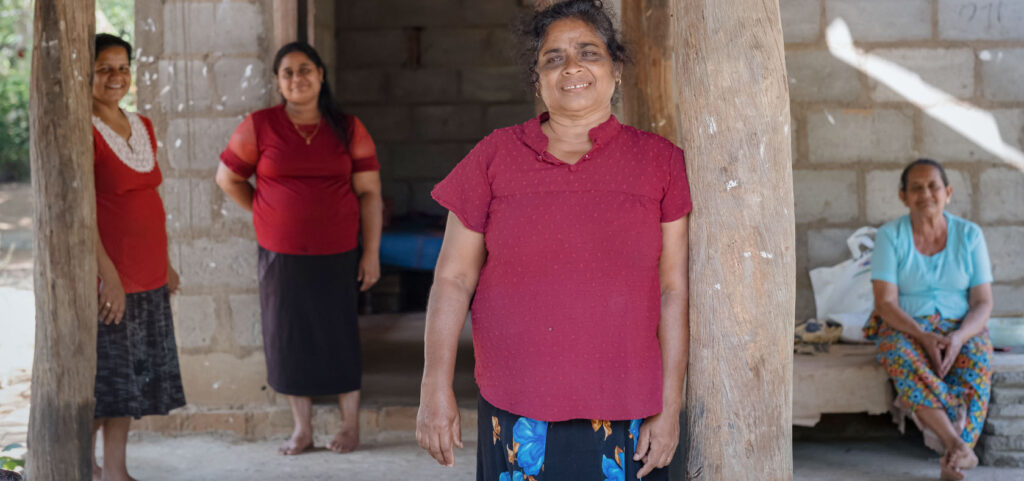 Like Lucia and Kamalawathi, women entrepreneurs in Sri Lanka face multiple challenges due to lack of social protection systems, and societal perceptions that hinder their propensity to explore, grow and thrive. In working towards strengthening women's economic empowerment, we can foster women's access to opportunities in the face of crises, because the largest beacon of hope in these women's lives is their optimism and prayer for better days and bigger dreams.
The trainings and support provided to Lucia and Kamalawathi are part of a project titled Implementation of the Women, Peace and Security Agenda in Sri Lanka, which UN Women implements with the State Ministry of Women and Child Development, Pre-Schools and Primary Education, School Infrastructure and Education Services.
The project supports vulnerable groups of women including women heads of households and entrepreneurs. More than 700 women are expected to benefit from the project. Local civil society organization Chrysalis conducts the trainings and provides in-kind support to the women.
The project runs from 2020 – 2022 and is funded by the Government of Japan.