One of UN Women's partner on the ground, the Restart Center, is providing treatment, psychosocial support and distributing medicine to the most vulnerable.
Since the 4 August explosions that rocked Beirut, resulting in 220 deaths and more than 6500 injuries, volunteer groups and non-governmental organisations have mobilised to provide much needed help, from serving hot meals to cleaning the affected neighbourhoods.
Restart Center for The Rehabilitation of Victims of Violence and Torture, a program partner with UN Women for the "Dealing with the Past" project , funded by Peace Building Fund, provides psycho-social and mental health care to families of the disappeared during Lebanon's civil war. Immediately after the explosions, Restart started developing a response plan tailored to the specific needs of people affected by the Beirut blasts.
"A multi-disciplinary team from Restart conducted a field visit to map out the mental health and medical needs of the affected population," said Project Coordinator Fadi Martinos.
"The following week, Restart set up tents in Mar Mikhael, in Al Makassed and La Sagesse schools," where his team provided services to 40 – 50 individuals every day, and 49 per cent of the beneficiaries were women.
"The non-profit sector's operations have been constantly shifting due to the pandemic, the economic and financial crisis, and now, the explosion. Continuous communication between NGOs, their partner organsations, and funding agencies [is critical] for [making sure that] the services meet the need of the most vulnerable," he added.
Restart's team consists of pediatric psychologists and psychiatrists, neurologists, along with a team of speech therapists, psychomotor therapists and special educators who work with children with special needs and children who need specialised mental health services.
These specialised services are urgently needed for children and families recovering from the trauma of the explosions.
Marianne Chamoun, 26, works as a Head Nurse with Restart.
She provides general and psychiatric assessment and administers wound care and medication. She recalls an incident that has stayed with her.
"Two women (in their 60's) were trapped in their houses in a small alley, unable to get out and get medical help. The alley was practically deserted. They were on the balcony and when they saw us, they started to shout to get our attention. We reached them through the fire exit of the building… they had suffered multiple wounds and severe trauma on their hands and legs."
"When I reached the balcony, the first thing they did was to hug me tight and begged me not to leave them alone. It was one of the toughest moments in my career. We provided first aid and contacted the Lebanese Red Cross for their Ambulance service and Emergency Medical Support". 
Chamoun explains the importance of the services provided by Restart, including distribution of medicines that prevent relapse among patients with chronic diseases.
Their medical teams also treat injuries and provide general physician consultations to vulnerable individuals who do not have access to healthcare.
"During the prior crises I always reminded myself of what we were taught as nurses, to empower and support the vulnerable. However, [after the blasts], I found it difficult to be positive. With some counselling, I felt more secure and grounded."
Globally, 70 per cent of health care workers are women, and during times of crisis, women bear the brunt of the trauma.
Lebanon is not any different, and women affected by the blasts, and those serving their communities throughout the crisis, need support.
Joelle Wehbe, 39, is also on the front line, providing psychosocial support to persons affected by the blasts.
She conducts psychological assessments of children with special needs as well.
"People are experiencing a lot of sadness, anger, fear, distress and some hopelessness. They don't have a channel to talk and express what they are feeling, which exacerbates the distress. People need to feel we are here for them, that there is a person to talk to, who can listen and stay with them in this difficult time," she explains.
Liza Ayvazian, a 53- year-old Lebanese English teacher for first grade, was living with her 80-year-old mother in Mar Mikhael when the blasts happened.
"I was visiting my friend on the same street. We heard the first explosion and thought it was a drone. I immediately ran to pick up my phone and check on my mother. I was talking with her on the phone and warning her to stay inside the house away from the balcony when the second explosion happened," she recalls.
Ayvazian's mother was not injured, but her friend was wounded.
While she is getting medicines for her mother from the Restart tent, she acknowledges that she too will need psychological support eventually.
"I cannot talk or think. I cannot even feel anything," she shared. "I don't know what I want right now. We are still in shock. We thought it was a nightmare."
'The August explosion came at a time of deep crisis in Lebanon, economic, social and political – the result of which was already impacting people, mentally and physically. The explosion compounded this, and resurfaced memories from the civil war," says Rachel Dore-Weeks, UN Women Lebanon's Head of Office.
"As 50 per cent of the population from the explosion affected area are women, and many older women living alone, we are working with women and communities in the area to facilitate access to trauma counselling. This begins with building the recognition that along with basic needs such as food and water, psychosocial counselling is necessary for recovery", adds Ms. Dore-Weeks.
For Abdel Salam Aref Ibrahim, a 67-year-old Syrian refugee, and a father of two children, the needs are even more dire.
He was working at a bakery in Mar Mikhael with his cousins during the explosions and suffered burns
They have now lost the bakery, their only source of income. "We have no income and I cannot work in this condition. How am I supposed to pay for rent when no one is working," Aref Ibrahim asks in anguish.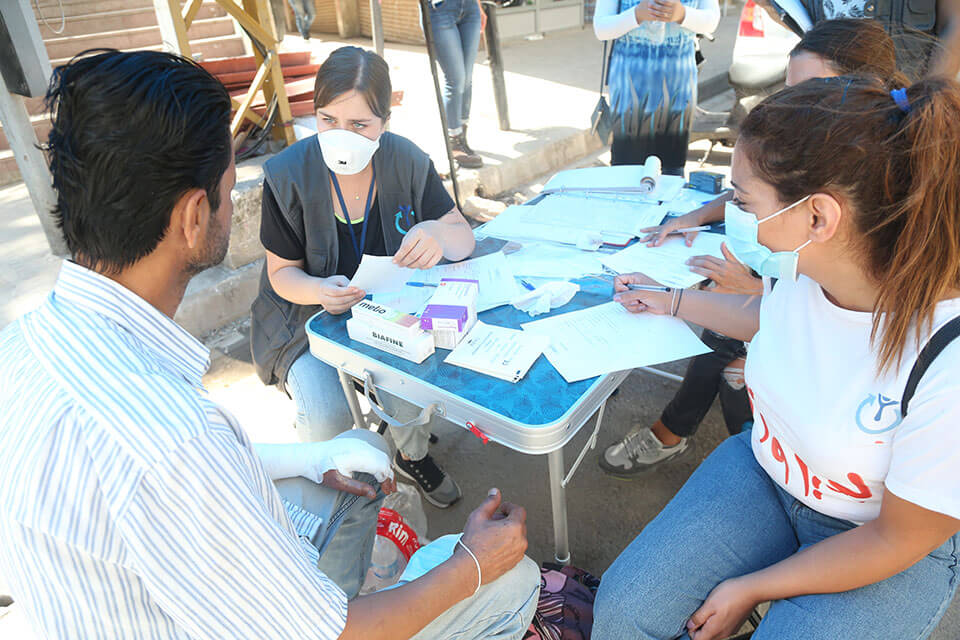 While he is receiving medical assistance from Restart, he points to other urgent needs – emergency cash assistance and economic support that could be a lifeline for the working poor and vulnerable groups.
---
The Beirut explosions sent shockwaves across the region and the world. Hundreds of thousands of people have been left homeless, and access to support for women experiencing violence is compromised. UN Women is working on the ground, making sure women and girls have access to safe spaces, counselling, sanitary products, and livelihoods support. Please give what you can today.