Nada Khoury, Rosy Bteich, Silva Guiragossian and Marguerite El Zoughindy are four Lebanese women, that were directly affected by the Beirut Port explosion in 2020 as their businesses were severely damaged. Fortunately, they have been able to count on UN Women and partners for support to get back on their feet.
Nada Khoury was at her pastry shop with her husband Freddie in Ashrafieh (2.5 Km from the epicenter of the Beirut blast), when they both heard a deafening sound, suddenly everything around them fell. Although she was unharmed, her husband lost consciousness and he could only be admitted to hospital seven hours later, since the roads were blocked, and hospitals were overwhelmed with injured patients.
"I went to the store the following Thursday; we tried to reorganize and clean the blood which was all over the floor. It took us two months to be able to reconstruct and reopen."
When Nada first saw the destruction, she thought they would never be able to repair the shop. However, since the pastry shop was her family's only source of income, she knew she would have to reopen it as quickly as possible.
Supported by UN Women, NGO Live Love Beirut conducted a needs assessment in the areas that were most affected by the Beirut Port explosion. Based on the data and analysis, the two organizations and Stand for Women, identified ten Micro, Small, and Medium Enterprises (MSMEs) owned by women among those most affected by the explosion, based on their needs, ability to rebuild, and the number of female employees. The MSMEs were then provided with in-kind support to help them get back to business.
Nada's pastry shop was one of the 10 MSMEs selected and thanks to this support, she was able to reopen her business.
Back to business after surviving the blast
Rose Bteich, 54, believes that a divine power saved her on the day of the explosion. Rose owns a clothing store on Gemmayze's main road, the most affected in the area. She usually never leaves her store before 7:00 PM but on August 4, her brother urged her to leave at 5:45 PM to join him for coffee in his house in Ashrafieh.
Rose says "as I was driving through Gemmayze a few minutes before the explosion, I was thinking how beautiful theses streets are. Some people were on the sidewalks, others were having their afternoon coffee in the old coffee shops."
One minute before the explosion, Rose was washing her hands, her sister-in-law left the terrace and went to the kitchen to get the coffee pot, her brother came inside the house to recharge his phone, and her niece, felt a sudden urge to go inside too. When the blast occurred, the building's balconies fell on their terrace. Had they still been sitting outside; they could have been badly injured or even worse.
"It's true that none of my family was hurt, but not everyone was as lucky. So many people died while sitting in the comfort of their homes; I lost so many friends," says Rose in tears.
Even though Rose still suffers from post-traumatic stress, she says she has faith and is grateful that her life was spared. Rose's store was destroyed, with mannequins flying out and glasses, doors, ceiling all over the floor. UN Women is supporting Rose to return to business by providing her with stock to facilitate the store's reopening.
Reviving art and photo businesses affected by the explosion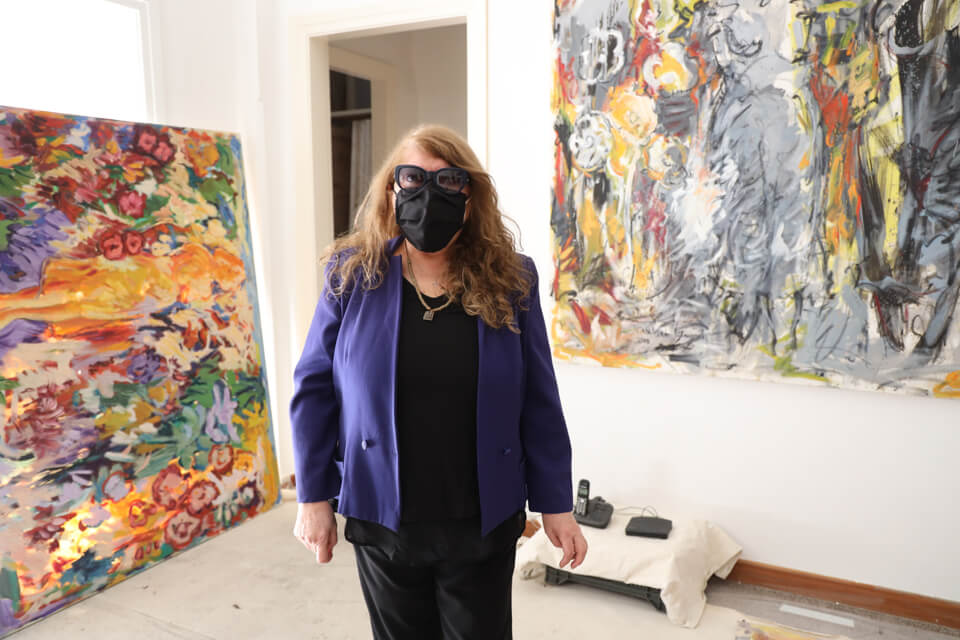 Silva Guiragossian's art school and gallery was also provided with in-kind support after the Beirut blast.
"My brother was in the gallery talking on the phone when he heard the first explosion. His intuition instructed him to jump into the corridor and crawl," says Silva, 65. "Then, the second explosion happened, shattering the glass and the paintings near the windows. His legs and shoulders were wounded, but his injuries were not critical. The art gallery was badly damaged, aluminum frames and glass fell. Even kitchen pots were almost flat."
Two days after the explosion, she went back to the gallery to clear away the debris. Passersby started flooding the gallery. Soon, they were about 20 people helping with to clean-up. There were adults and children who came from all over Beirut. "There was a great deal of pain, but seeing people coming to help us with their children, made us feel better. There was even an 8-year-old girl helping," says Silva.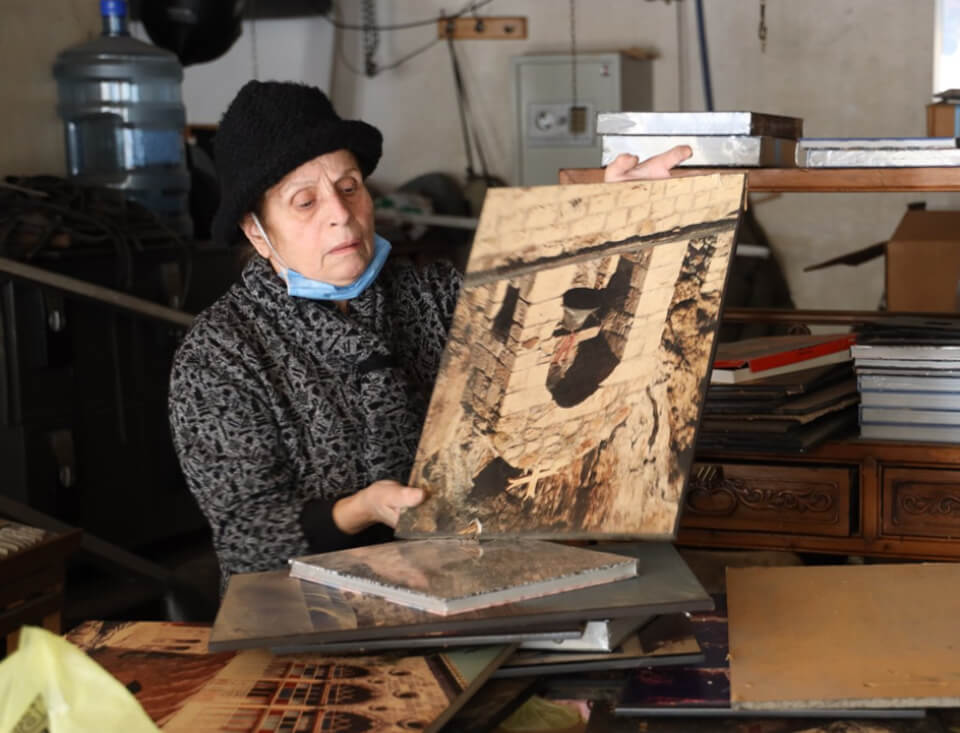 UN Women's support was also extended to Marguerite El Zoughindy, an 85-year-old woman who owns a photography store in Ashrafieh. She was at her home in Remhala, 28 km from Beirut, when she heard the explosion. Her son immediately called the doorman at the shop, who informed them that their family business that had operated for decades, was destroyed.
"Thankfully, no one was injured. However, at the time of the explosion, my 13-year-old granddaughter was at home and the windows glass and the TV set fell over her. While she didn't get hurt, she is still shocked and refuses to leave the house," says Marguerite.
At first, her children did not allow her to visit the shop fearing for her mental health. When, she finally managed to go, she realized that the explosion had caused extensive damage, with cameras and photo machines were destroyed. Marguerite received equipment which has helped her to resume her business operations.
Months after the explosions, residents and businesses within the blast's radius are still struggling to overcome the disaster. According to a UN Women assessment, of 1,164 businesses across 24 neighborhoods in Beirut, approximately one fifth was owned by women, and 51% of business owners said they could not reopen without receiving assistance.
Since the explosion, UN Women Lebanon has adapted its programmes and work to provide immediate relief to the most vulnerable women and girls living in the most affected areas.
"Small businesses such as those we are supporting with Stand for Women and Live Love Beirut are the beating heart of the areas destroyed by the Beirut explosion. Helping them to stay open and remain in these neighborhoods is vital to the rebuilding and revitalization of these areas, and to allowing people to remain living in them. These small businesses are also critical for retaining women in paid employment', says Rachel Dore-Weeks, head of UN Women in Lebanon.