Ha Noi, Viet Nam — More than 80 social influencers in Viet Nam who received training from UN Women have reached nearly 4 million people in their social media campaign to end violence against women and children, a widespread problem in the country.
The influencers – artists, writers, TikTok content creators, entrepreneurs and others – posted the anti-violence messages on Facebook after the total of four trainings in Ha Noi and Ho Chi Minh City in 2022 and 2023. They took on the name #TheOrangeTeam; orange is the colour of the United Nations global anti-violence campaign.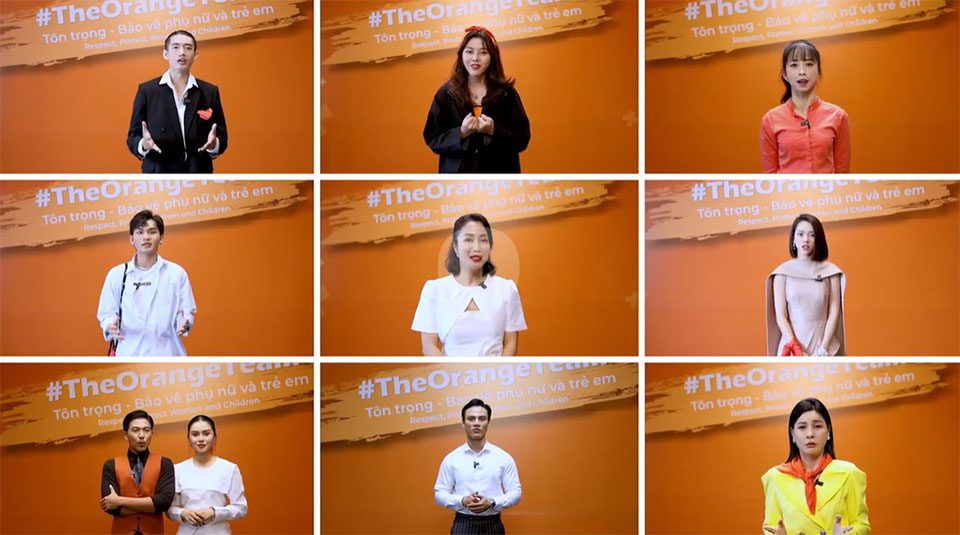 So far, 83 influencers, more than half of them women, have participated in the trainings given by UN Women specialists on gender-based violence. The influencers started posting immediately after the first training on 1 Oct 2022. By March 2023, only six months later, the influencers had reached 4 million people on social media and attracted some 500,000 engagements ­– reactions, comments, shares and clicks.
One #TheOrangeTeam influencer is Miss Grand International 2021, Nguyen Thuc Thuy Tien, a 24-year-old model and online content creator. She is active in social causes and has millions of followers on platforms such as Facebook, Instagram and TikTok. Being in the public eye, she herself has frequently experienced online violence. And other #TheOrangeTeam influencers said online sexual harassment, threats and hate speech have hurt their mental and physical health.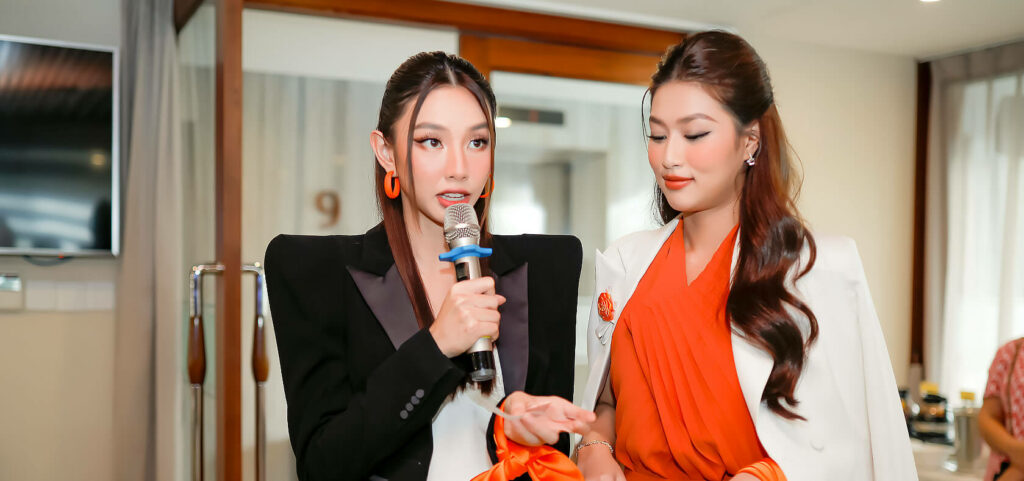 "Nowadays, many women influencers have become the victims of online violence," Nguyen said. "I believe each person is born different, so we should not hurt each other based on one-size-fits-all standards."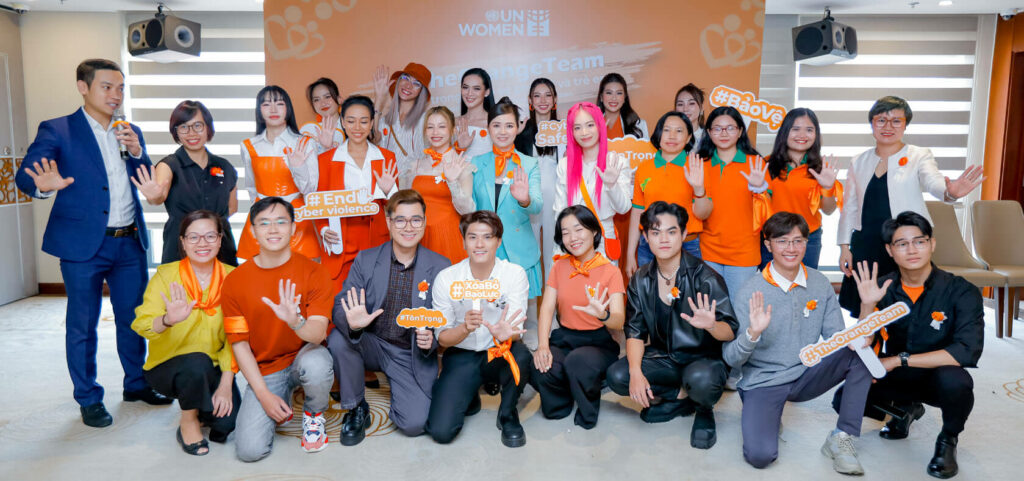 The Government's 2019 National Study on Violence against Women in Viet Nam found that nearly 2 in 3 women experience one or more forms of violence by their husbands in their lifetimes. Yet the violence epidemic remains largely hidden in Viet Nam; in 2019, 90.4 per cent of women survivors did not seek help, the report says. Other research has also found widespread abuse of children in the country.
The influencers have posted information about hotlines where survivors of violence can access essential services. They also widely distributed two videos that UN Women produced and that featured the opinion leaders. 16 Actions to End Violence against Women and Children and Chat with Goby. (In the video, Goby, a fish from Vietnamese fairy tales, responds to questions about gender-based violence online.)
And they have invited followers to join #TheOrangeTeam and show zero tolerance towards violence through everyday actions.
Among the team's influencers is Trang Ha, 47, a writer and long-time gender equality advocate who had worked with UN Women on its HeForShe campaign in 2015. 
"The training workshop fostered an intergenerational dialogue with creators across different platforms," she said. "It was interesting to exchange our understanding about violence against women and children and see what we can do about it together."
Another #TheOrangeTeam influencer is Quang Dang, a 34-year-old professional dancer, choreographer and actor.
"The journey to build a violence-free environment has just begun," he said. "Each of us has a role to play. Let's speak up and speak out. Stand in solidarity with survivors of violence."
UN Women will organize two more of the trainings in 2024, one each in Ha Noi and in Ho Chi Minh City, The Government of Australia funds the trainings.