As of early July, South Sudan confirmed more than 2,000 coronavirus cases. The implementation of social distancing rules, curfews and the closure of non-essential business has had a drastic impact on small businesses, especially in the informal sector where women constitute the majority of the work force. Now that businesses have been allowed to re-open with social distancing measures in place, women are working to adapt their businesses and get back on their feet.
---
For Margret Raman, a 38-year old single mother of five, the COVID-19 pandemic prevention measures have had a significant impact on her business.
Margret sells beans and groundnuts at Masiya Market in Yambio, South Sudan in order to support her family. But, as social distancing guidelines drastically reduced the number of people visiting the market, Margret's income decreased by more than 50 per cent.
After participating in business and financial management training, Margret had begun to see her business grow. Now she is devastated by the impact of the virus.
"Our businesses have been growing, only to be disrupted by COVID-19," she says. "Since the [start] of COVID-19, our lives have not been the same."
Since 2018, UN Women, in partnership with Change Agency Organisation (CAO), has been running a livelihood and gender-based violence protection program to help women like Margret grow their small businesses. The program has reached 3,650 individuals, including 2,980 women, but with the spread of COVID-19 in South Sudan, many participating business-owners are unable to sustain their growth.
As a result, UN Women is shifting gears to support women during the ongoing crisis.
"UN Women in South Sudan continues to provide training to women on business management, and also on diversifying their businesses to create products that can continue to sell even in the context of COVID-19," says Paulina Chiwangu, UN Women Deputy Country Representative.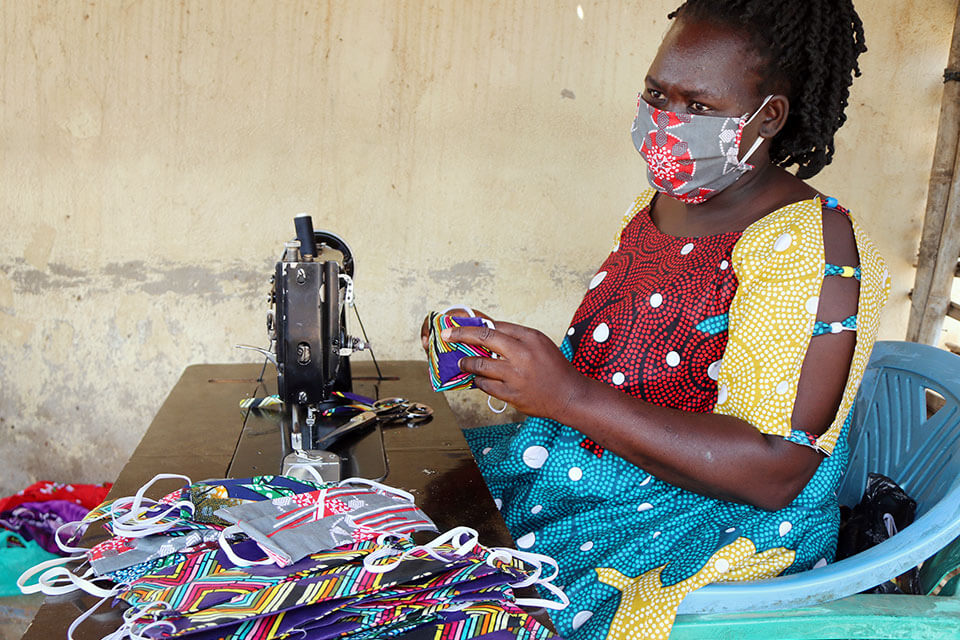 "UN Women is currently supporting 52 all-women tailoring groups produce masks. In this way, women are not only earning an income from selling face masks, but they are directly contributing to efforts aimed at preventing further spread of COVID-19."
The spread of the coronavirus has not only affected market vendors. With the rising costs of produce and fewer customers, restaurant owners like Helen Poni, 25, also need support to adapt their businesses.
Ever since her father passed away, Helen has been operating a mobile restaurant to support her younger siblings.
"The number of clients who used to come to eat dinner at my restaurant has reduced because of the fear of the coronavirus," she says.
In South Sudan, most businesses operated by women are overwhelmingly micro or small sized. For Margret, the decreased income has forced her to make some tough choices about the future of her business.
"I have suspended some of the activities I planned to do this year," she says. "For instance, as the rainy season sets in South Sudan, I had planned to buy seeds and increase my acreage of maize so that I can have food security and sell some maize to the World Food Program at the end of the season."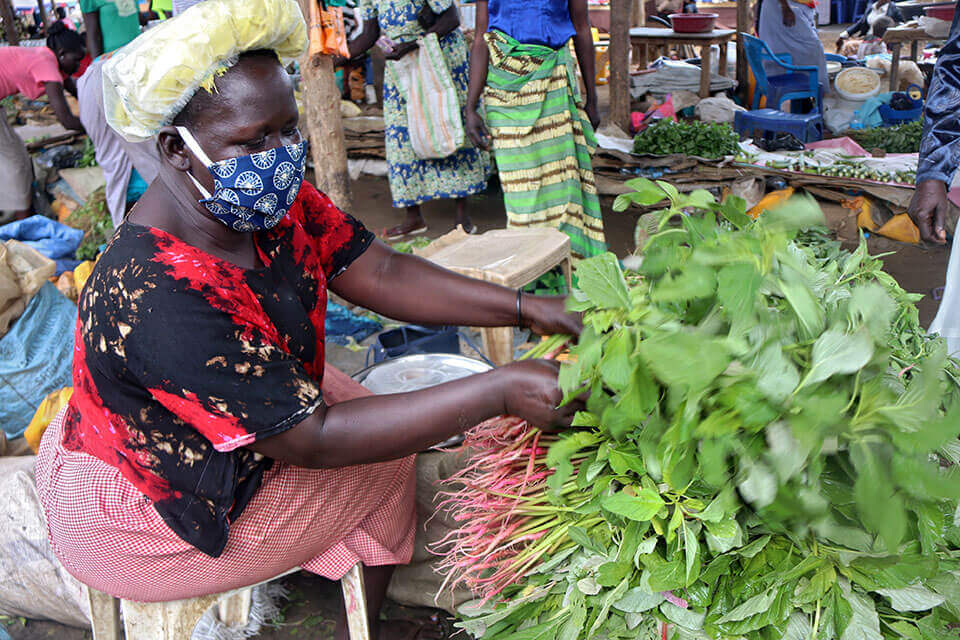 During these difficult times, Margret and her fellow small-business owners are turning to one another for support.
Margret is a member of the Anigi Village Savings Group, a community-based savings and loans group, which has decided to continue meeting to help its members. In order to follow social distancing guidelines, only the executive committee meets on behalf of the rest of the group to calculate savings and administer loans.
Last month, when one of the members needed help, the Savings Group were able to provide a small-interest loan so that she could start selling vegetables to support her family. Recipients repay the loans after their small business begins to make a profit and is stable enough to stand on its own.
Margret says this is the only way to secure their small businesses during the current COVID-19 crisis.