Billions of people across the world stand on the right side of history every day. They speak up, take a stand, mobilise, and take big and small actions to advance women's rights. This is Generation Equality.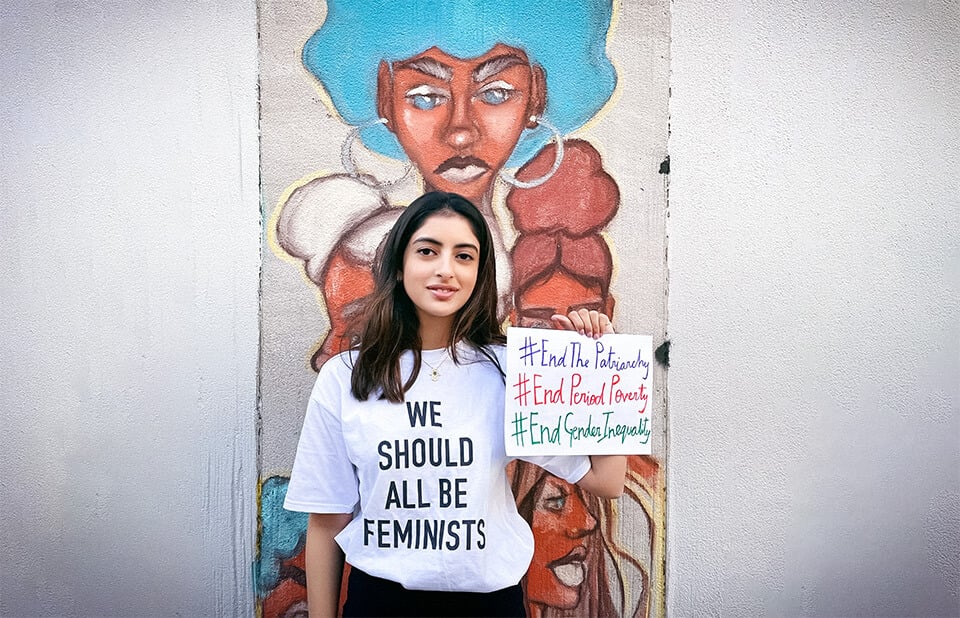 I am Generation Equality because…
Studying abroad I found the women there far more emancipated and free. I want women in India to feel the same way, and to be given similar opportunities. I remember hearing about Scotland becoming the first country to make period products free. I want to make that also possible in my country, where every day, women are struggling to access menstrual hygiene products and health care.
I want to see this achieved in my lifetime, that's why I started out so young. We are responsible for building the world we want to live in. That motivated me to start Project Naveli and support women by giving them opportunities and resources to bridge the gender gap in India.
Period poverty is about access. Not just access to menstrual hygiene products but also to education around menstruation. This is an extremely stigmatized and taboo topic in India, which leads to misinformation and perpetuation of age-old customs and myths harming women.
Speak up and speak mindfully
I encourage young people to use their voices to spread awareness around issues about women's today. Be mindful of how you speak to and about women at home, school and elsewhere, to ensure you are not reinforcing negative stereotypes. Respect the work your mothers do at home and offer to share the workload.
Educating yourself about the problem moves you one step closer to the solution. Educate those around you about pressing issues faced by women today, and encourage them to support the cause by donating to women's organizations.
Even the smallest acts of resistance can make a difference. Call out inequality and stand up against sexist attitudes and stereotypes. Vote for more women to be represented in government and all forms of leadership.
Set a good example
Men play a crucial role in raising the next generation of boys, who will form their values and beliefs around women based on the behaviours reflected by men today. Men in power, teachers, leaders, coaches and fathers — I urge you to set the right example.
A more gender-equal society benefits everyone! Patriarchy damages not just women but also men. At this rate, achieving global gender equality will take a hundred years. This movement needs all the support it can get, from both men and women, old and young, and that support is needed now.

Navya Naveli Nanda, 23, is co-founder and Chief Marketing Officer at Aara Health, a start-up that creates scientifically backed health care products for women in India, while also spreading awareness about topics of women's health that are stigmatised in the country. Nanda graduated from Fordham University in New York with a major in Digital Technology & UX (user experience) Design and is now based in Mumbai, India.
---
Originally published on UN Women Asia and the Pacific