The growth of artificial intelligence has shown the technology's potential to create new ways of working, but also to exacerbate existing inequalities and stereotypes. At UN Women's recent HeForShe Summit, leaders from the public and private sectors discussed the potential risks of AI, and the need to develop the technology safely.
At the summit, leaders discussed factors that are shaping dominant narratives around masculinity today, and offered concrete positive alternatives for men to foster allyship and leadership in the pursuit for gender equality under the call to be respectfully disruptive.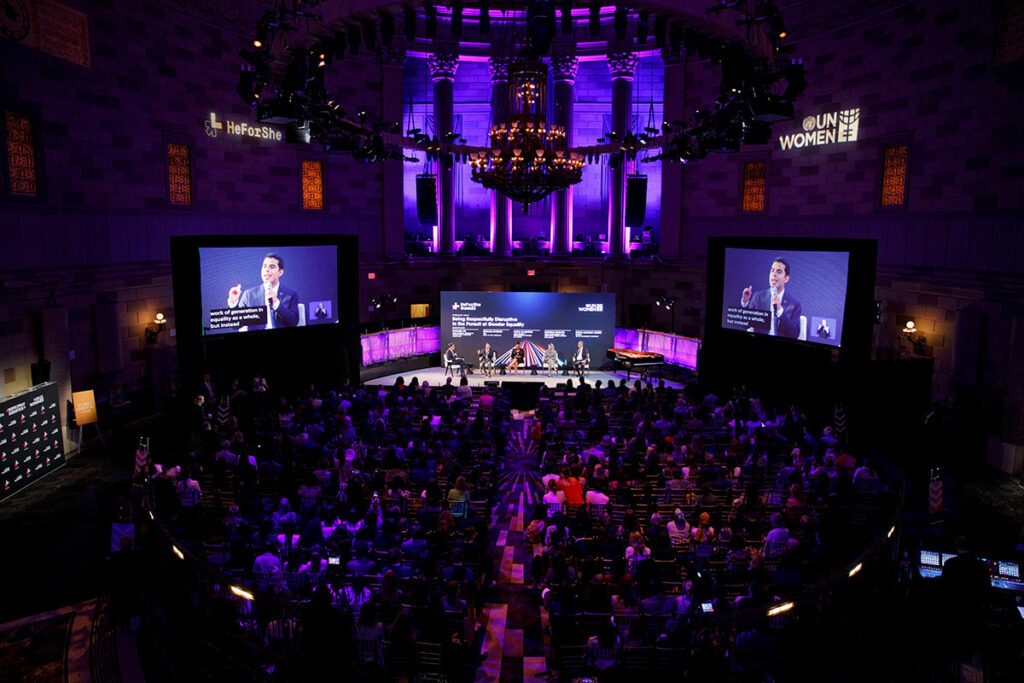 How AI replicates existing biases
AI language models draw their material from already published information, meaning that they can replicate and amplify existing gender biases.
As Sasha Luccioni, Research Scientist and Climate Lead at the machine learning company Hugging Face, put it, "AI bias doesn't come from thin air – it comes from the patterns we perpetuate in our societies".
And those societies are struggling to achieve gender equality.
"It should particularly alarm us that the attitudes of young men seem to be going backwards", said UN Women Executive Director Sima Bahous, citing a recent survey showing that 58 per cent of young men aged 16 to 19 believe that men are better political leaders than women.
With such views so widespread, it should come as no surprise that AI, in an attempt to mimic human expression, would reproduce stereotypes. In fact, in the words of Leonardo Nicoletti, a data visualisation journalist at Bloomberg, "Generative artificial intelligence doesn't just replicate stereotypes or disparities that you see in the real world, it actually exacerbates these and makes them appear much worse than they really are".
Nicoletti gave one example: when he asked AI image software to show him "judges," only 3 per cent of the pictures it created were of women.
One response to this challenge, as voiced by Joakim Reiter, Vodaphone Chief External and Corporate Affairs Officer, is to impose clear rules and a "clear ethical compass" for AI projects.
"Frankly, we need guardrails", he said. "You cannot allow companies or individuals to have a free-for-all and experiment with something that has an impact on society".
"Companies are not in isolation", he added. "When you launch products and services, you have a responsibility to understand how those products and services interact with society, including societal norms and discrimination and biases in society".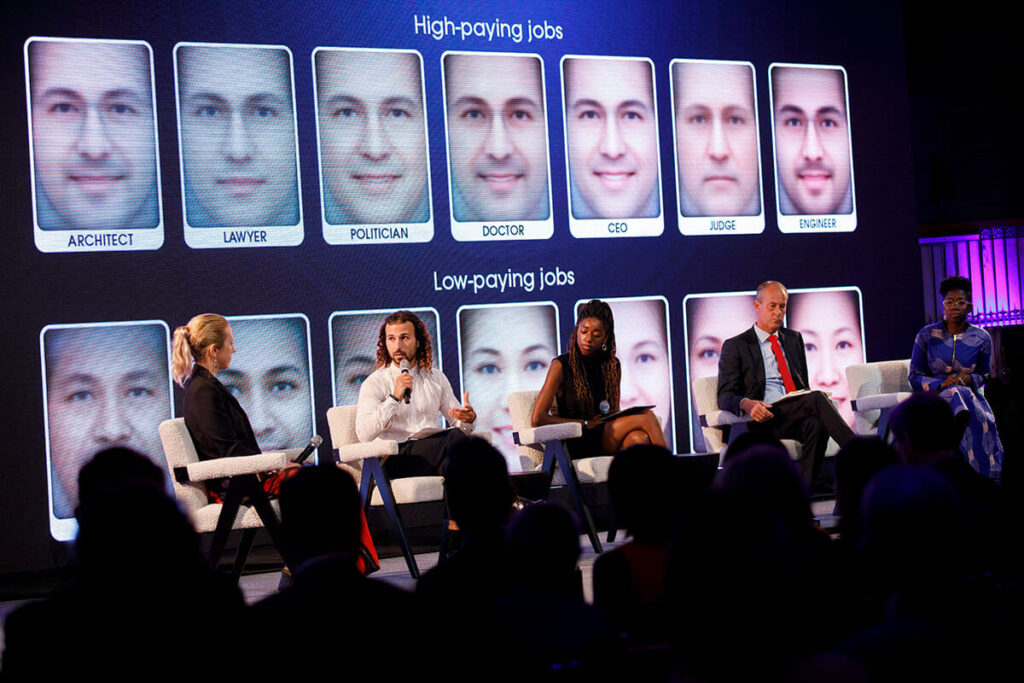 Challenges for both men and women
Other topics discussed at the summit included how dominant narratives shaping masculinity should be reframed to inspire men to recognise direct benefits of gender equality.
"There are a number of gender gaps that now run in ways that go against the traditional narrative of gender equality", said Richard Reeves, President of the American Institute for Boys and Men. He pointed to men's higher risk of suicide, lagging educational performance, wage stagnation, and falling representation in some jobs.
"If there are real problems in a society faced by a group and they don't see and hear those problems being addressed directly by mainstream institutions, they can turn into grievances, and grievances are weaponised", he added. "We have a responsibility to take those problems seriously."
Reeves continued, saying that women finding equal footing in traditionally male occupations "is absolutely necessary", but so are equivalent efforts to "at least arrest the decline in the share of men in our classrooms, in psychotherapy, in the mental health professions".
"If we want men to do better, be better, be better allies, we have to provide a positive vision for what men can be that's specific to the lived reality of being a man", added Washington Post columnist Christine Emba, who said men should be encouraged to pursue a wide array of careers and ways of living.
"One thing we have to make clear is that women's success does not and should not come at the expense of men", Emba added. "The sexes have to and will rise and fall together."