The current monsoon has been unkind to Kavita,* a minority Hindu in south-eastern Pakistan. Her district of Khairpur is one of the most impoverished in the province of Sindh, and hosts multiple ethnic and religious minorities, particularly Hindus who make up 2.8 per cent of the population.  The area has been grappling with rising discrimination against minorities, adding to the vulnerability of a population that is already poor and disfranchised.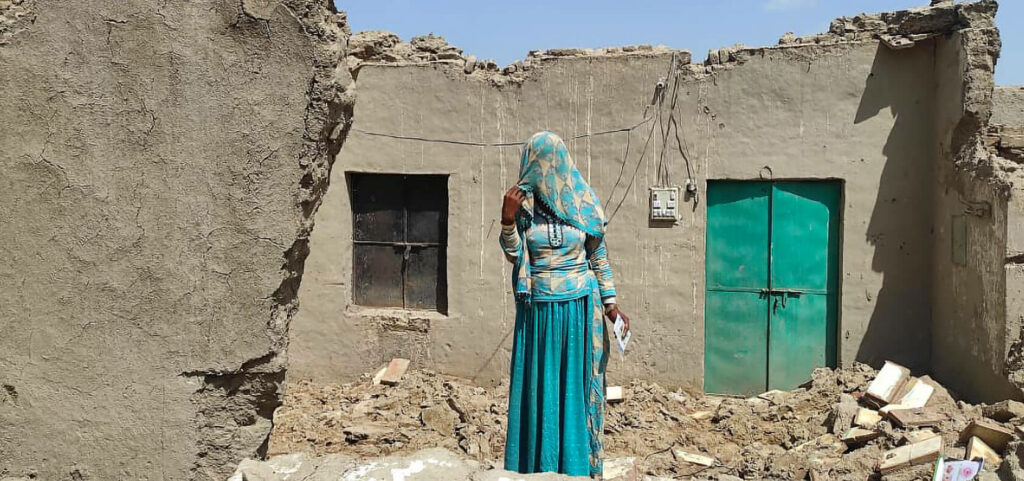 "It was raining and raining and raining! Suddenly I saw the water level rising, so I grabbed my three children and fled," said Kavita. The heavy rains resulted in the flood that destroyed her house of mud and thatched straw. Kavita and her family now live in the makeshift camp along the roadside.
Before the devastating flood, Kavita earned a living by making products from dry date palms, sewing, and embroidery. "The water washed away everything I had made with my own hands. All raw materials and unfinished products were swept away. I took some advance money from customers, but now, I have to pay back," said Kavita.   The flood has caused loss of livelihoods and incomes of many, especially women, who are more vulnerable to the impacts of natural disasters and climate change. 
Women from marginalised groups such as Kavita also face the biggest challenges in accessing humanitarian assistance. Women and girls have difficulties in finding adequate shelter, food, water, and fuel for cooking, as well as problems in maintaining personal hygiene and sanitation. They also face discrimination based on their ethnicities, as well as status as their caste.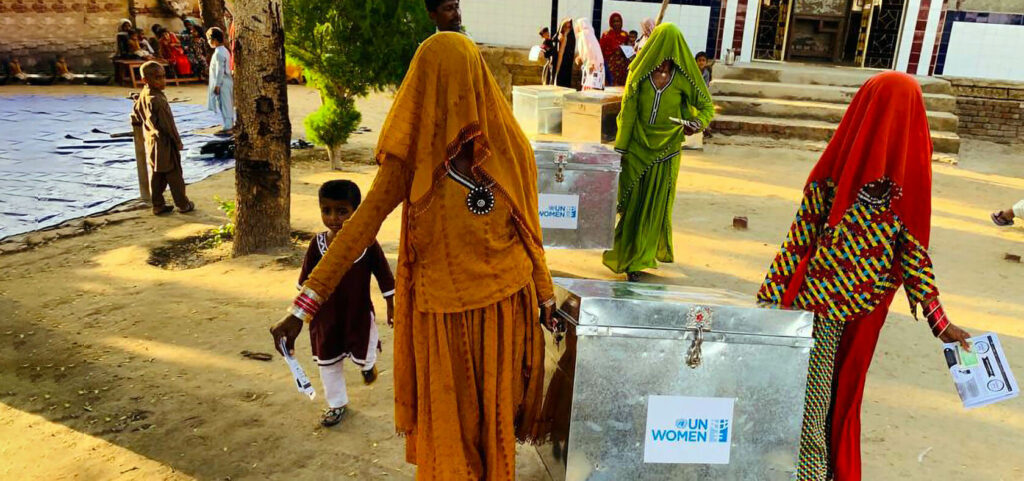 Recognising the needs of different groups of women, UN Women Pakistan has applied a holistic approach to its flood response that reflects the realities of women and girls in crisis. Along with partner organisation Pehal, UN Women Pakistan reached out to women-headed households, women home-based workers, women with disabilities and women belonging to marginalised and disadvantaged communities in Sukkur and Khairpur districts and provided them livelihood packages for their immediate needs.
Like Kavita, many in her community are living makeshift camps. Their homes and lands are still inundated, and it will take a few months to return to their abodes.  There is an urgent need to bring their life to normalcy and restore livelihoods.  Help the flood-affected women by supporting UN Women: Help Pakistani flood victims now