UN Women and the World Food Programme, in collaboration with IrisGuard, are using technological innovation to advance women's economic empowerment through blockchain technology to assist Syrian refugee women participating in UN Women's cash for work programmes at the Za'atari and Azraq refugee camps in Jordan.
In 2012, Ibtsam Sayeed Ahmed fled Syria after a bomb fell on her family home in Dar'aa, which left her with life-changing injuries. Ahmed spent the next three years in and out of the hospital to fully recover.
"I had to learn to walk again, to adjust to only having one hand, support myself, and ultimately learn how to live in a new way," she remembers.
Ahmed lives alone and has the responsibility of financially supporting herself, so when an opportunity came to enroll in the UN Women Oasis Centre, she took the position.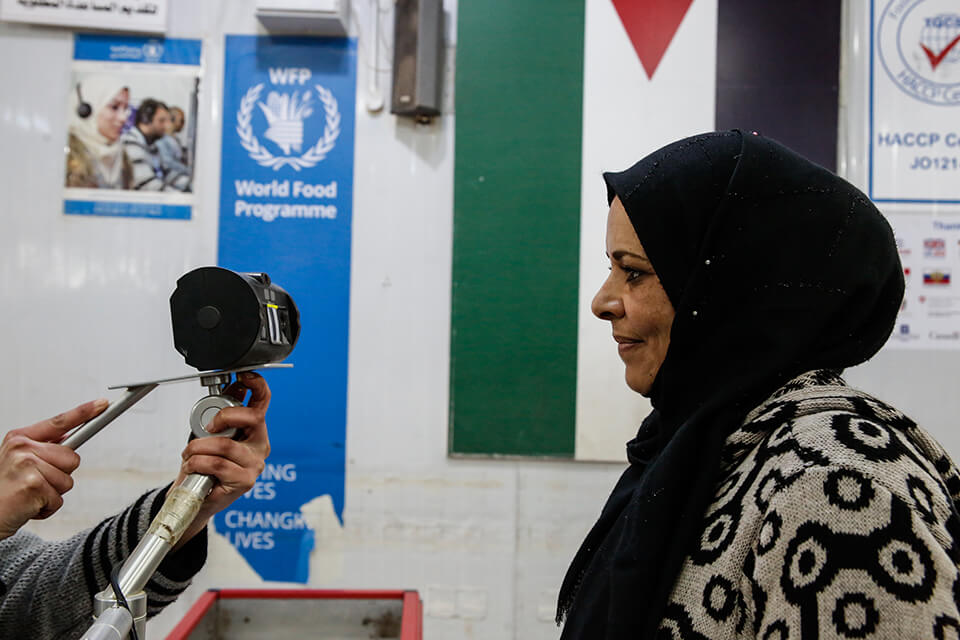 As part of UN Women's incentive-based volunteer program at the Oasis, Ahmed now earns a salary as a qualified Remedial Education Teacher.
"(The position) allowed me to financially support myself and save money to pay for my medical bills," she says.
To support women like Ahmed enrolled in the Oasis Centres, UN Women, in partnership with the World Food Programme (WFP), and IrisGuard provide secure access to their funds and savings through blockchain assistance.
"Knowing that I have the option to save money has made a difference in the way that I spend money and think about the future," Ahmed affirms. Find out more about Ahmed's story here. 
Aisha Salam, 36, arrived in Za'atari refugee camp in 2014 from Damascus, like Ahmed she had to find a way to support herself, but also her three children. She enrolled in the Oasis Centre as a Childcare Teacher, which allowed her to pay for the medication her daughter required and provide for the family's needs.
"Being able to save money for my daughter's medication is very important to me," Salam explained. "For myself and I know for many other women, it is reassuring to know that no one else can take the money or take advantage of our salaries."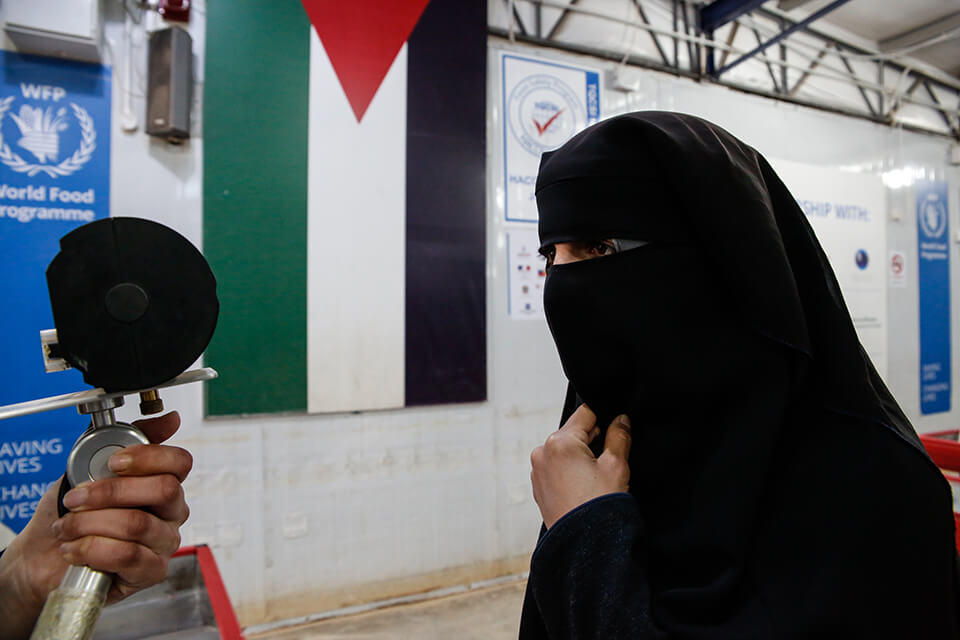 The women are enabled to access their salaries through an iris-scanning system available in WFP-Supermarkets, which directly links to their account on the blockchain. Only the person affiliated with the iris scan can withdraw the cash from the system, which ensures security and accountability for the account holder.
Ahmed and Salam's stories exemplify just two of the 231 women safely accessing their salaries and funds through blockchain assistance. The blockchain plays a key role in enhancing women's economic empowerment, in enabling to monitor and manage their salaries.
The partnership is framed under the WFP's 'Building Blocks' program, in collaboration with IrisGuard and generously supported by the government of Australia, as well as, the governments of Finland, France, Iceland, Italy and Zonta International, as well as UN Women National Committees under the 'Eid bi Eid' pooled fund mechanism. Through the partnership, UN Women is also providing dedicated digital and financial literacy sessions to women and girls in the Oasis, to enhance their awareness of tracking and budgeting to empower them on the use of the blockchain.