A safer work environment for women market vendors in Luganville and Port Vila is the result of newly installed video surveillance cameras at the two markets. The closed-circuit television (CCTV) systems provided through the Markets for Change (M4C) Project contribute to a safer workplace and will encourage more women vendors to travel to the markets to sell their produce
Isabel Vokraei, a market vendor, travels for up to five hours from her home in Namavuni Village, Avunaleleo, North-West Santo to get to the Luganville market every week to sell wild yams. She says she feels much safer now and the newly installed closed-circuit television (CCTV) surveillance system gives her peace of mind. "This will make it easier to go to work every day," said Ms. Vokraei.
The M4C Project is implemented by UN Women in partnership with UNDP and the Governments of Australia, Canada, and New Zealand.
The Market Safety Assessment for the Port Vila, Marobe and Luganville Markets conducted by Vanuatu Women's Centre in 2017 revealed security concerns raised by women market vendors. It then became a priority for the M4C Project to address the safety and security concerns of women market vendors.
Australian High Commissioner to Vanuatu, Her Excellency Ms. Heidi Bootle, together with the Markets for Change Project, recently handed over CCTV equipment and a Public Announcement (PA) system to the Luganville Market. This VUV3,527,113 investment is part of a wider VUV 8,027,498 investment which has funded CCTV and PA systems to be used at the three largest markets in Vanuatu (Port Vila, Luganville and Marobe).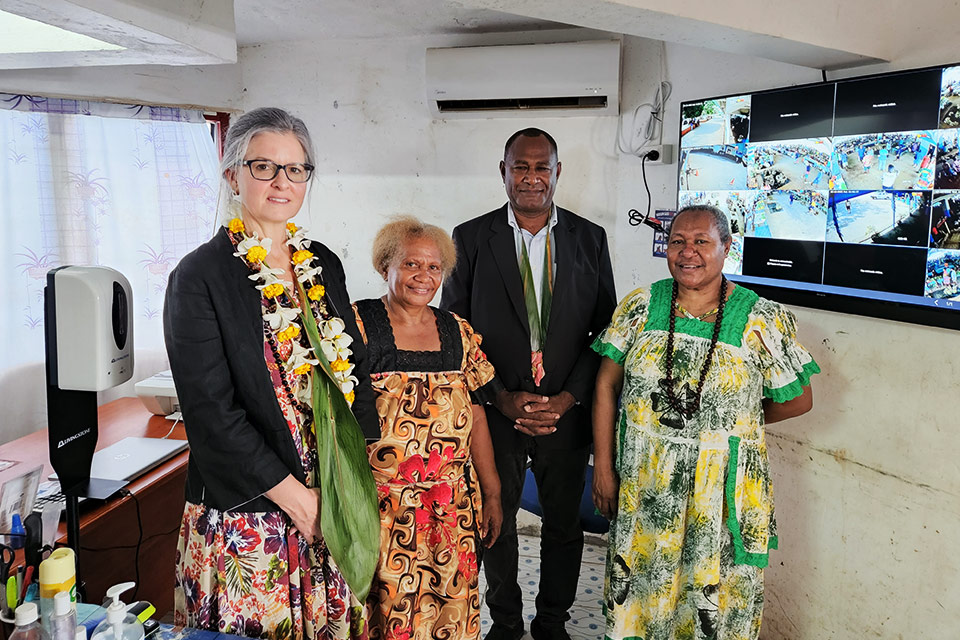 The CCTV systems monitor the markets 24 hours a day. The PA system is part of the markets' communication plans which involve announcements, trainings and dissemination of key messages and information to all. The equipment will also be critical for providing safety warnings to vendors and the general public in the event of natural disasters and the current COVID-19 pandemic.
"We thank the Australian Government and UN Women for helping the Vanuatu Government to prevent sexual harassment, bullying and thieving in the markets, allowing market vendors to earn an income without threats to their safety and wellbeing," said Mr. Johnny Botleng, Commissioner of Luganville Municipal Council.
Australian High Commissioner, HE Heidi Bootle, said Australia was pleased to contribute to the wellbeing of families and communities.
"This equipment will help to provide a safe, secure and inclusive workplace for women," said HE Bootle.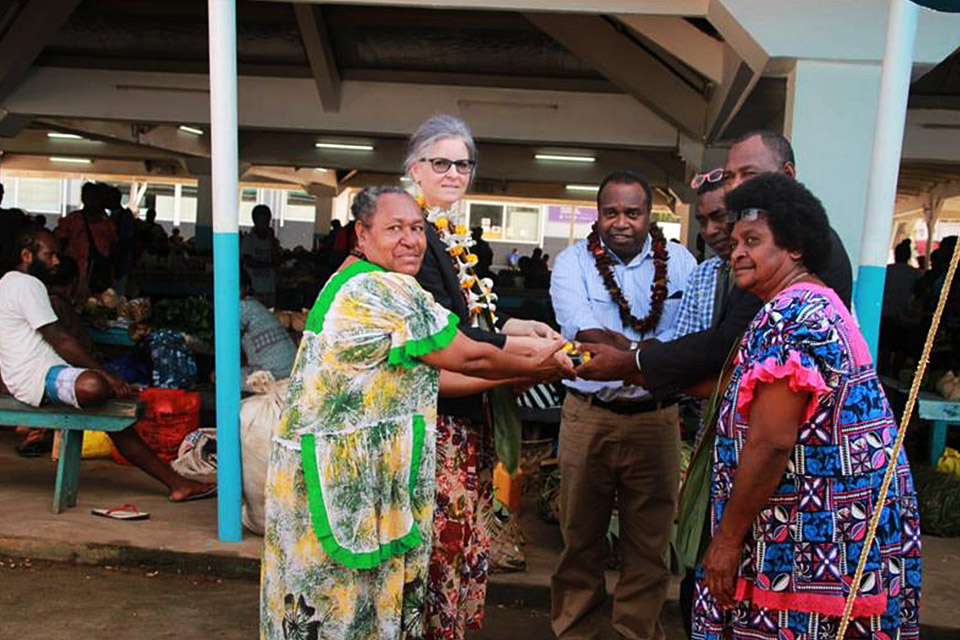 "Australia supports the Markets for Change Project because we recognise the importance of markets, and in particular women market vendors, to the people, communities and economy of Vanuatu."
UN Women Country Program Coordinator – Vanuatu, Betty Toa, added that, "Safety of the vendors, the majority of whom are women, is paramount and the CCTV systems will help ensure hundreds of women vendors are able to go to work without fear."
The Markets for Change Project in Vanuatu has been in operation since 2014 and works in six markets across Shefa and Sanma provinces.
The Markets for Change (M4C) Project promotes gender equality through the economic empowerment of women market vendors in Fiji, Samoa, Solomon Islands and Vanuatu. It brings together governments, market vendors and market vendor associations (MVAs), civil society organizations and UN agencies. M4C is implemented by UN Women in partnership with UNDP and the Governments of Australia, Canada, and New Zealand.
---
Originally published on UN Women's regional site for Asia and the Pacific