Since the launch of the Russian Federation full-scale invasion on 24 February, 2022, over 2,000 women have been confirmed dead in attacks that have wrecked homes and civilian structures across Ukraine. Total numbers are likely to be much higher: according to the UN Commissioner for Human Rights, women account for nearly 40 per cent of the over 21,000 civilian casualties recorded in 2022. And of the estimated 7.9 million internally displaced peoples in Ukraine, women now constitute at least 90 per cent.  
A Rapid Gender Analysis carried out by UN Women and partners revealed that women were being disproportionately affected by the crisis in other ways too. In the face of ongoing security threats, women and girls are experiencing increased gender-based violence—including intimate partner violence, sexual harassment, and conflict-related sexual violence. Deteriorating socio-economic conditions further exacerbate this threat, heightening rates of sexual exploitation, trafficking and other forms of violence. Twelve months in, support services remain insufficient to meet survivors' needs.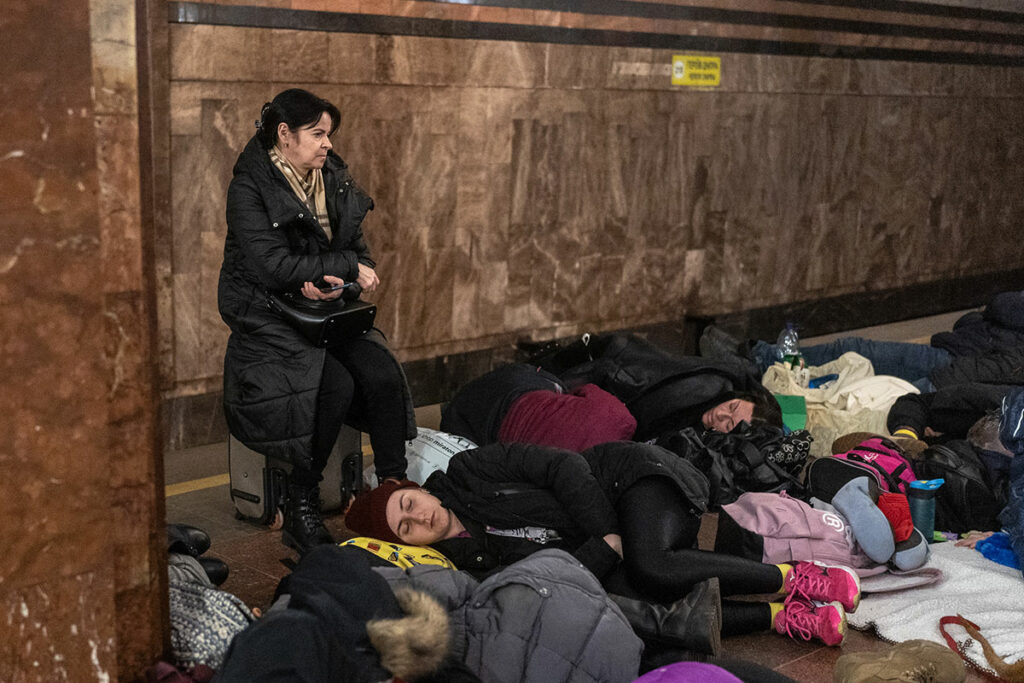 This lack is compounded by displacement, which renders services and resources of all kinds even less accessible to women. And the psychological impacts of the crisis make it all the more difficult to get the necessary support: "In all the chaos of displacement and emotional stress because of the war, it's very hard to stay focused and voice your needs," says Oksana*, who was displaced from her hometown of Skadovsk by the invasion.   
In the midst of displacement, 83 per cent of women also report loss of income. Anna*, who fled her hometown of Kharkiv, used to work as a travel agent. Now in Ivano-Frankivsk, she emphasizes the difficulty of finding a job as a displaced woman: "I have faced a harsh reality that it is extremely difficult for a woman over 50 years old to find a job," she says, adding, "Employers think that if you are an [internally displaced person], you can leave any moment and therefore, you are not reliable."    
On top of lost livelihoods, women in Ukraine are struggling with massive increases in unpaid care work. They are increasingly taking on leadership roles within their households and communities—and yet they remain largely underrepresented in decision-making spaces related to humanitarian and peace processes.   
Healing together
After escaping her Russian-occupied hometown, Oksana made her way to the western Ukrainian city of Ivano-Frankivsk. At first, it didn't feel like refuge: "Having spent some time in occupation, I didn't feel safe even after I came to Ivano-Frankivsk," she says.  
Above all, she was looking for a place to heal. "I think for all [internally-displaced] women it is important to first find a safe place where they can recover emotionally, talk to each other about their problems and fears, and also get some advice when and if they ask for it." she shares.  
Today, Oksana has found that place through the Safe Spaces for Women and Girls Pilot Initiative. Launched by UN Women in September 2022, the initiative is based on the Safe Cities and Safe Public Spaces Global Initiative, which has been developing, implementing and evaluating comprehensive approaches to address sexual violence against women and girls in public spaces for over 10 years.  
Together with women's rights organizations and other local partners, UN Women worked to adapt this initiative to the local context. The result was the creation of four safe spaces for women in the regions of Zaporizhzhia and Ivano-Frankivsk. Developed based on assessments conducted with diverse women in each of the selected locations, the spaces are designed to meet the specific needs of their beneficiaries.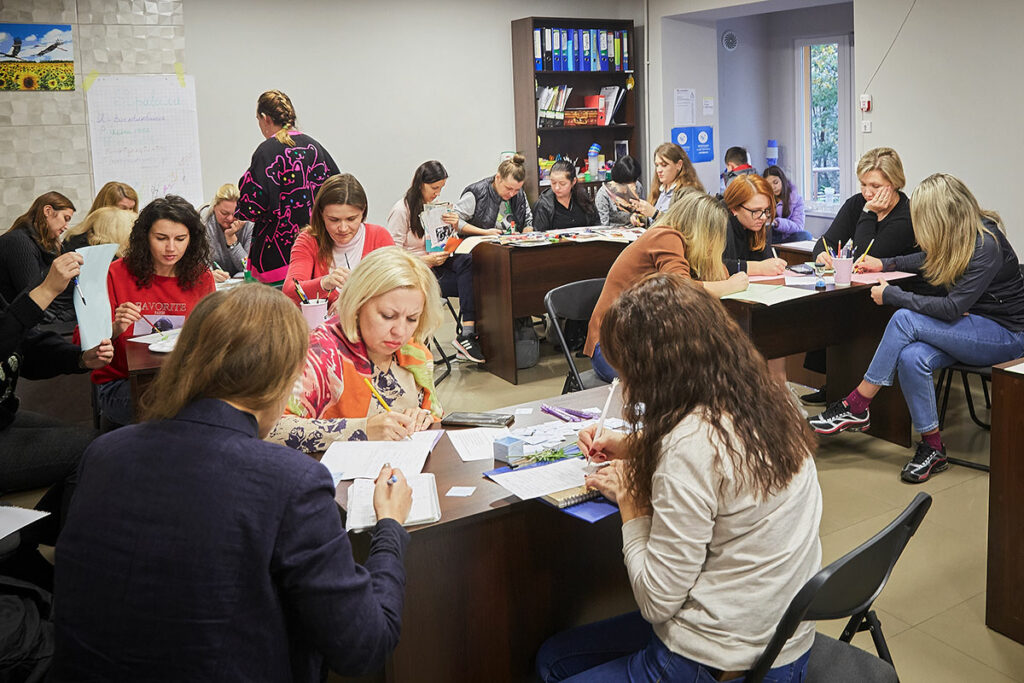 Each space provides crucial resources and services that displaced women have had trouble accessing. They distribute hygiene kits, educational resources, and offer multidimensional forms of support, including psychological counselling for both adults and children, access to legal advice, and information about local employment and housing resources and survivor services. Support is also offered to the partners operating the safe spaces, who have participated in discussions about the importance of self-care and techniques to deal with vicarious trauma.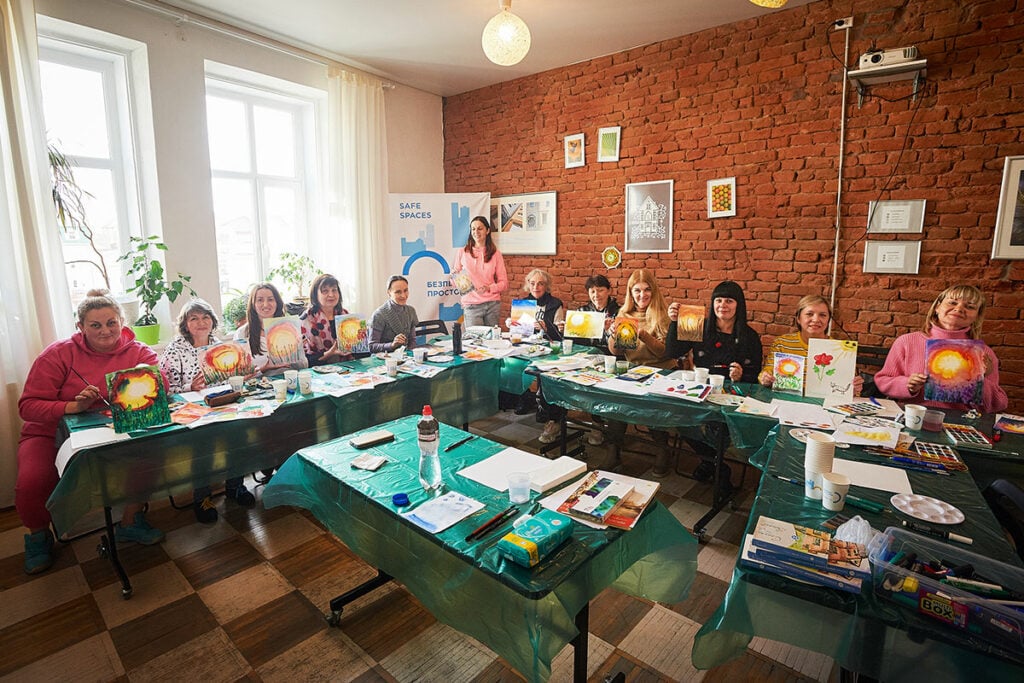 They also offer childcare, with a dedicated child-friendly space in each location. This has been crucial for Olena*, who was displaced to Zaporizhzhia with her son Danylo*: "I can leave my son here and not worry about him because I know that he's being taken good care of," says Olena. "So I can focus on accessing support."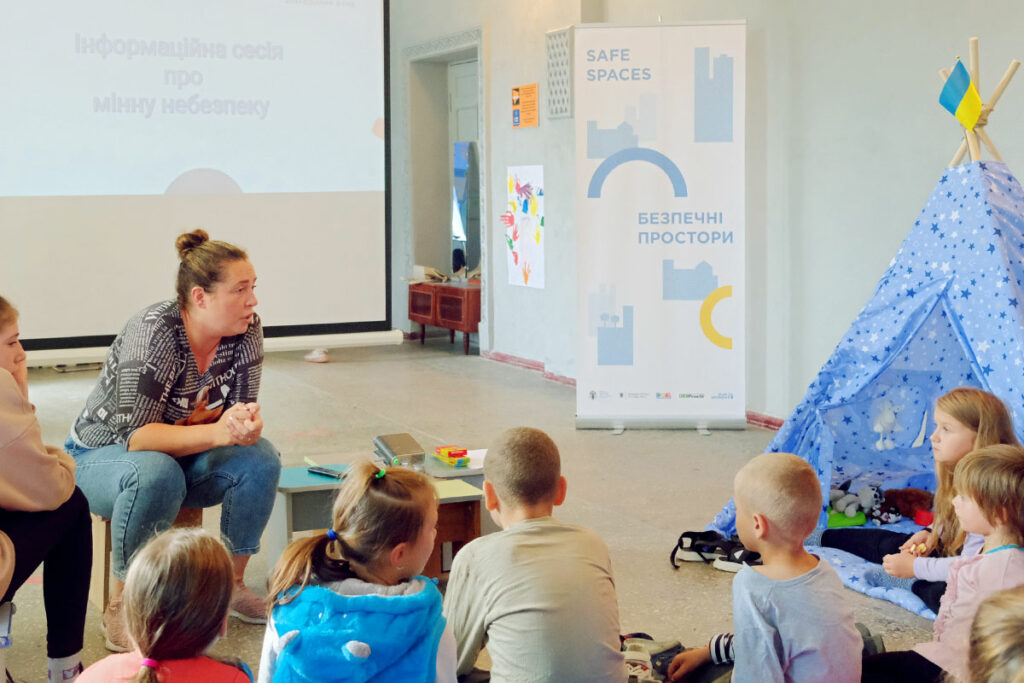 While their children play, women have lots of opportunities to recharge, heal and learn. They can take part in yoga or meditation classes, join learning sessions on preventing discrimination and addressing different forms of violence against women, and attend workshops that help them build employment and other skills. "I try not to skip any workshop or event," Olena says. "All of them are so useful for a Ukrainian woman these days—understanding child behaviour, basics of financial literacy, and mine risk education."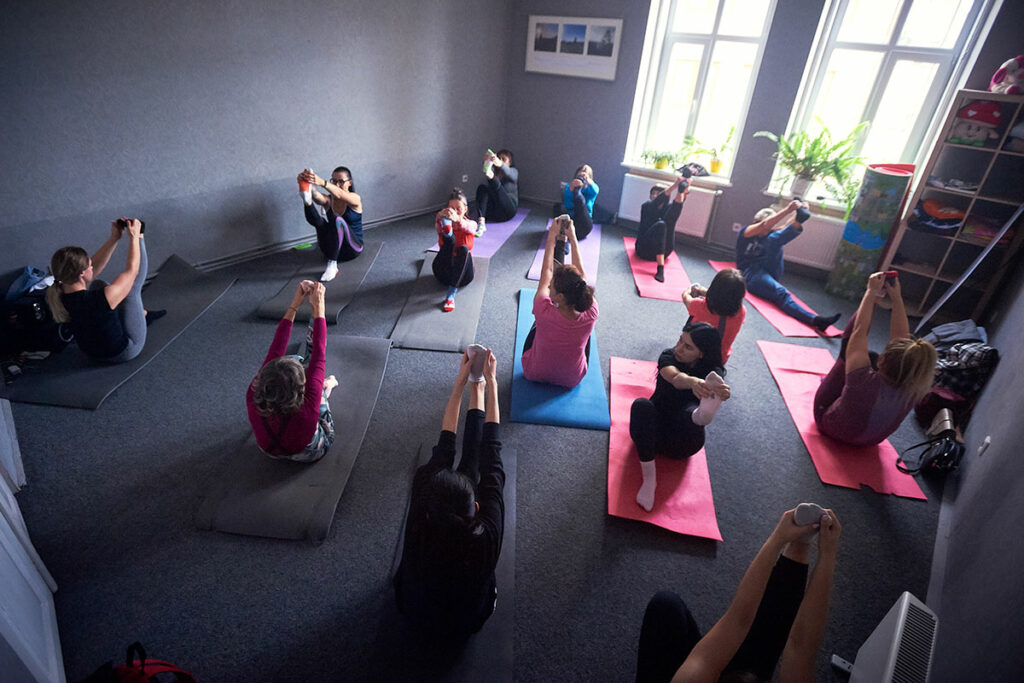 From time to time, women in the safe spaces have met with local decision makers and service providers, including a city council deputy, representatives of local employment centres and representatives of NGOs offering legal services to internally displaced peoples. During these meetings, women are able to voice their needs and concerns and to learn about available opportunities in their host communities, such as access to education and employment.   
"This Safe Space in Zaporizhzhia for me has been like a lifeboat. I relax here and recuperate—physically and emotionally," says Olena. Oksana adds, "I finally feel more confident, and even found a job." 
Anna agrees: "I have literally found my safe space here. I attended a workshop on writing a resume, and eventually found a job. I have my friends here, as well. So now, I don't feel alone in the city. I feel secure and surrounded by the community of friends," she says.
---
Interventions by UN Women and its partners for the Safe Spaces for Women Pilot Initiative from October 2022 to date have reached conflict-affected women and children across the country under the project "Building democratic, peaceful and gender equal society in Ukraine". Funded by the Government of Norway, the project helps build resilience and empowerment of women in Ukraine, including support for safe city and safe public space interventions.   
*Names have been changed to protect the safety and privacy of the individuals